Schweppes teams with Diageo for third year running for their summer campaign
By Ellen Hammett on Tuesday, April 17, 2012
Schweppes has teamed with the world's leading drinks business Diageo, for the third year running, to promote the drinking of it with summer favourites, Pimm's and Gordon's.
Similar to the Pimm's campaign that recently graced the sandy beaches of Bournemouth, Schweppes has embraced the quintessentially British feel, as seen in these campaign posters below.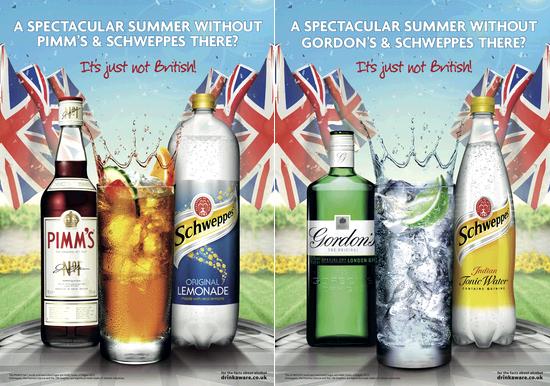 It's almost impossible not to feel a sense of nationality and pride when looking at these bold posters, particularly when 2012 holds events that will undoubtedly go down in British history.
What better way to kick back and watch the London 2012 Olympics or celebrate the Queen's Diamond Jubilee this summer than with these summer favourites?
I think this is a nice little campaign. It's fun. It's fresh. It's relevant. It's British.
And now I really want a gin and tonic.