London's first ever pet-and-owner salon has arrived
By Joshua Djaba on Monday, November 28, 2022
Research has shown that for many of us, our pets are our best friends. And what better way to spend quality time with your best friend than by going out for a pampering session together?
'Short, Bark and Sides' will be 'pupping' up in London for 2 days only on December 7th-8th, offering UK dog owners their first ever chance to have the perfect bonding session with their beloved pups by getting a pampering at the same time.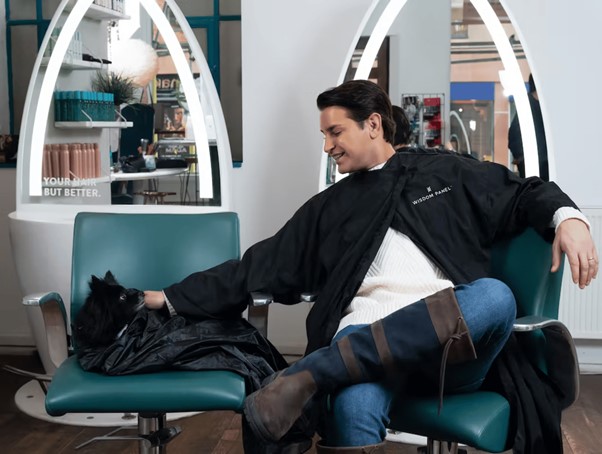 You can bring your furry friend to Duck & Dry Mayfair for a pun-laden pampering session, including a nail posh and polish/paw trim and clip; or a wash and bouncy blow-dry/fur-facial, spritz and paw-dicure, all while sipping on a complimentary prosecco/pawsecco. And to top it all off for the festive season, you can get your picture taken with your best friend and turn it into a digital Christmas card!
The 2-day scheme is being run by Wisdom Panel, who provide comprehensive pet DNA tests, after they discovered that 80% of dog-owners prioritise their pet's grooming. As such, they decided to launch a pop-up where both parties can leave grinning, ready for a big day out together during the festive season.
A poll in the Wisdom Panel database also found that found that owners feel closer to their dogs after shared experiences, and a pampering session where a matched glow-up is sure to have every pet-human duo leaving attached at the hip.
Pet-parents can get themselves a package by donating to rescue charity All Dogs Matter. You can also pre-book your beauty salon double day out, or head to Duck Dry & Mayfair between 5:30pm – 8pm on December 7-8 for walk in nail/claw pampering session.
Georgina Richardson, Head of Wisdom Panel UK, said: "We're thrilled to be launching the Short, Bark & Sides Beauty Salon in time for Christmas.
"Owning a dog is one of the most enriching and meaningful experiences in life and with 100% of our customers actively seeking bonding experiences with their dogs, we can't wait to see which breeds and owners will pair up together for some fantastic salon looks.
"In order to book we just ask for a donation of their choice to rescue charity All Dogs Matter upon booking as part of our commitment to supporting rescue charities in what is an unprecedented time for pet abandonment."