Dancing Double Act Twist & Pulse announce new McVitie's and Britain's Got Talent partnership to the delight of the fans with new dance routine
By Lily Abery on Wednesday, January 19, 2022
Twist and Pulse announced the new McVitie's sponsorship of Britain's Got Talent (BGT) by joining the red carpet launch yesterday with a brand-new original dance routine featuring McVitie's biscuits and tea at the Palladium in London. The event came as McVitie's, the provider of the UK's favourite biscuits, announced their headline sponsorship of the hit ITV show, Britain's Got Talent, now entering its 15th season.
The partnership marks the coming together of two of the UK's favourite, and most quintessentially British brands, promising Golden Moments of absolute fun for families to share together. The packed crowd were delighted to see  a mix of street dance and comedy as the duo performed their latest routine which involved them dunking their McVitie's biscuits into mugs of tea via acrobatic and funky dance moves that won them the top prize in 2019.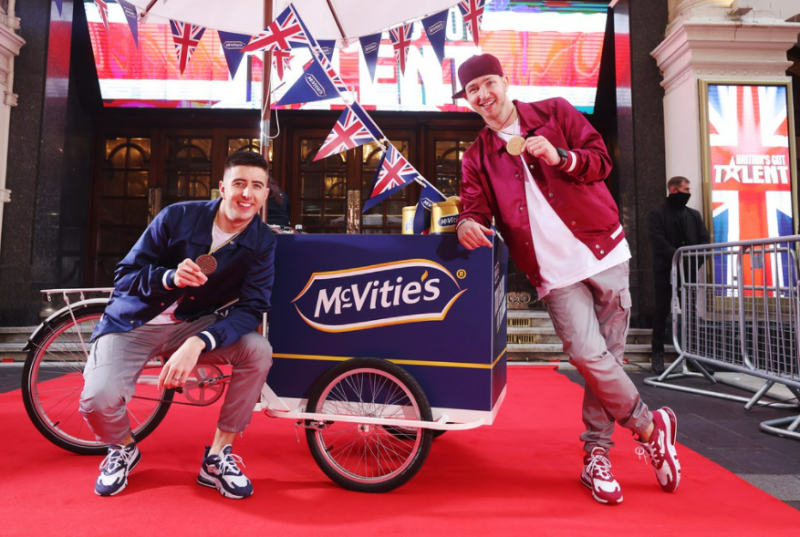 Before winning "Britain's Got Talent: The Champions", the South Londoners shot to fame in 2010 for their stellar dance routines and cheeky-chappy humour which wowed the BGT judges and viewers all over the world, taking them to second place in that years' competition. It certainly brought BGT back with an especially sweet bang as the crowd tucked into biscuits and revelled in the show's return.