Women's Aid spoof Fashion Ads encourage consumers to look beyond the label
By Laura Kirkpatrick on Friday, September 3, 2021
If you look between (or in this case along) the lines of what appears to be your typical fashion ad, the darker meaning is revealed.
Women's Aid, a British charity on a mission to end domestic violence, has subverted fashion advertising tropes to raise awareness of coercive control – a pattern of behaviours used to harm, punish, or frighten another person.
In 2005, it became illegal in the UK but since then the number of offences has risen. In the year ending March 2020, police in England and Wales recorded 4,856 cases.

Covid-19 has had a huge impact on the number of cases globally, resulting in a 41% increase to the Women's Aid Live Chat site within just two weeks of the UK's first lockdown.
This form of abuse is often tricky to identify, and the damage can be emotional rather than physical, which can leave victims second-guessing themselves.
Engine Creative have designed the 'Not Model's Own' campaign to target 16-34 year old women to further understand this form of abuse, so that it's easier to identify, prevent and prosecute.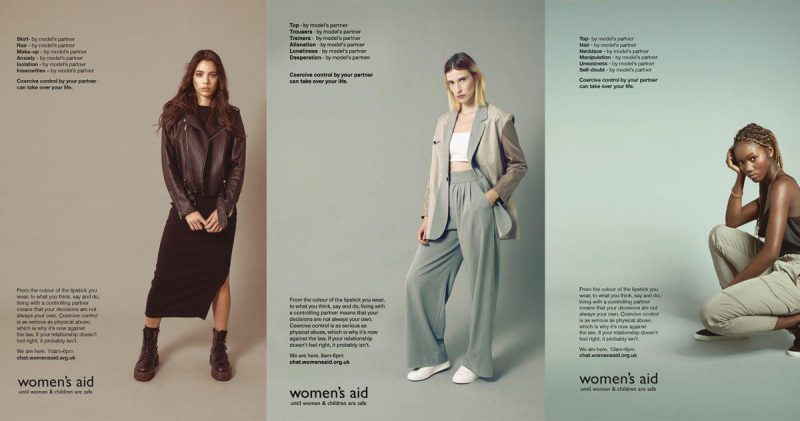 The spoof ads will appear to feature fashion models, who's clothing is typically selected by stylists with highly visible brand names.
Women's Aid mimics this practice but instead the model's clothing has been selected for her by her partner.
Lines read: "Skirt—by model's partner; Hair—by model's partner; Make-up—by model's partner; Anxiety—by model's partner; Isolation—by model's partner; Insecurities—by model's partner." 
The ads cleverly depict the perpetrators' controlling behaviour and the emotional toll it has on the woman.
For those who recognise similar patterns within their own relationships, there are direct lines to help and guidance.
"Drawing young women in with aspirational fashion shots and then letting them realise there is a sinister vulnerability behind the glossy look will hopefully raise awareness of coercive control and help the viewer question anything that does not feel right in their own relationship," said Christopher Ringswell, creative director at Engine Creative.