It pays to be bad: Netflix encourages 'cashing in on sin' ahead of final season launch of 'Lucifer'
By Lily Abery on Thursday, September 9, 2021
As it turns out, there really is no rest for the wicked. Netflix has just collaborated with agency Mischief @ No Fixed Address to promote the drop of their hit show "Lucifer" on 10th September. A sweepstake launched on Monday is distributing cash cards in exchange for sinful confessions from the American public.
Ahead of the release of the show's sixth season, fans of the show have been invited to share their favourite of the seven deadly sins (pride, greed, lust, gluttony, envy, wrath and sloth) on Twitter/Instagram with the @LuciferNetflix social media accounts. The prize for this 'Cash in on Sin' competition is a cash card complete with appropriate funding to fuel one's sin of choice.  
it pays to be bad 😈 tag @LuciferNetflix + say ur fave sin: #pride, #greed, #lust, #envy, #gluttony, #wrath or #sloth w/ #sweepstakes for a chance to win

💸 no purchase necessary
🗓️ open 9/6/21 – 9/17/21
🇺🇸 US residents 18+
📜 official rules: https://t.co/7GYNz3xMQX pic.twitter.com/iBATUTYLYF

— Lucifer (@LuciferNetflix) September 6, 2021
The card's appearance is certainly in tune with the diabolic tone of the campaign, with its blood red colour and smattering of pentagrams across its face. In case that was insufficient in 'setting the mood', the card is also engraved with the title 'Sin Rewards Card' which acts as a helpful signpost for its proposed use.
For the lucky recipient, the card will be loaded with $250 intended to be spent on an experience or brand aligned with each sin. For example, 'lust' might be a sexy weekend getaway, whereas greed might lead to a hamper of food products.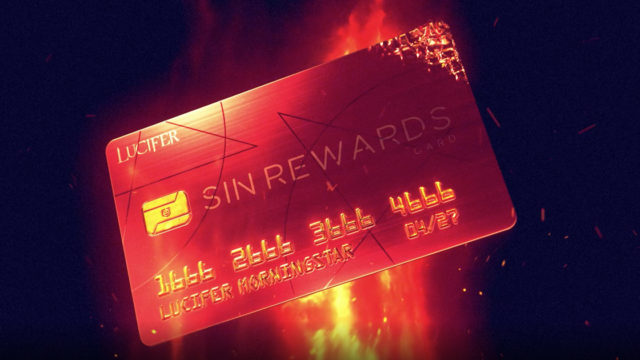 Fans can enter the sweepstakes until the new season's premier date on 10th September, see the official rules and regulations here.
Billy Joel would've rather 'laughed with the sinners than cry with the saints' in 1978, and I'm sure the lucky winner of this campaign will agree.