It's coming home! How brands are reacting to the Euros 2020
By Joe Colquhoun on Friday, July 9, 2021
The England football squad hasn't just got the public shouting from the rooftops, brands are also getting in on the action, capitalising on the England squads' success and cheering them on with some brilliant reactive campaigns.
In this article we'll take a look at many of the activations that have been created and built upon as the Three Lions have reached the finals, updating as the competition progresses.
Peroni: 'Magnifico' by Wavemaker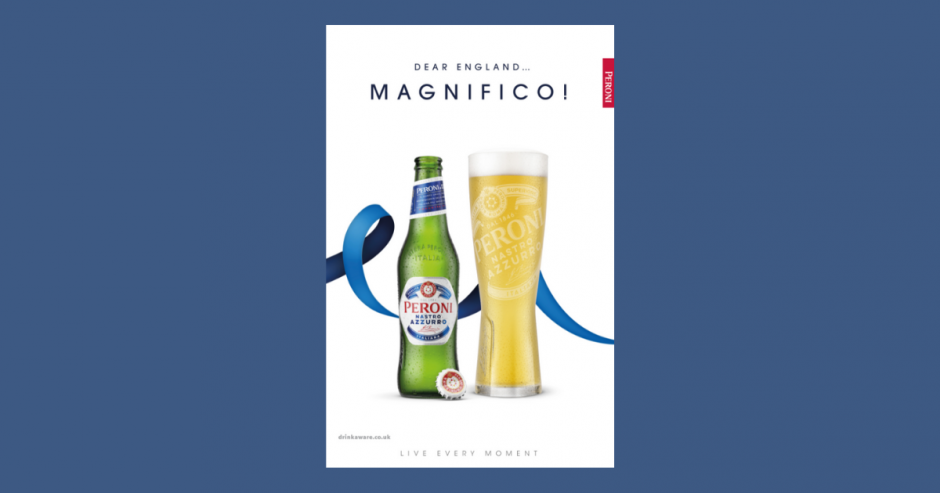 Italian brand Peroni Nastro Azzurro keeps it classy with a congratulatory OOH poster following the win over Denmark last Wednesday. The poster went live across Manchester and London the moment the final whistle was blown. Come Sunday however, things are bound to heat up.
Purplebricks: It's a sign, it's coming home 
Technology-led estate agents took to Sterling's childhood street to declare their support for the English lions ahead of the final on Sunday with their for-sale signs marked with "It's coming home".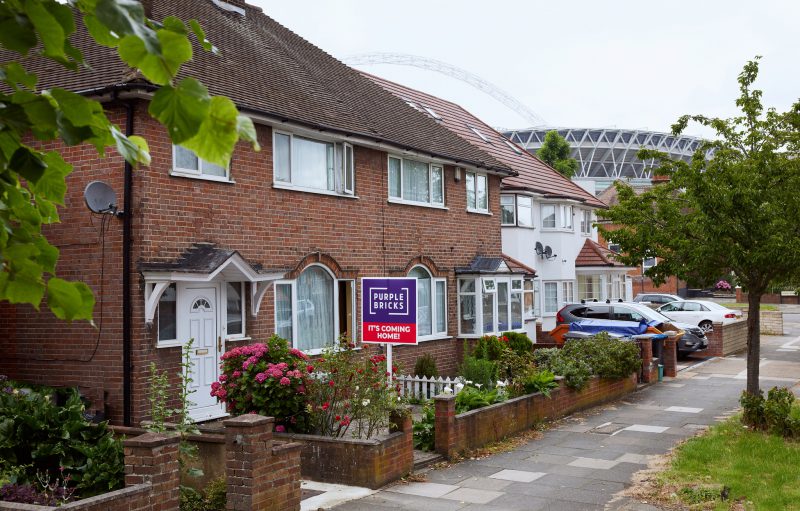 England's star player grew up less than a stone's throw from Wembley Stadium and has always remarked that playing there is like "playing in his back yard".
Bud Light: Boxheads 
Outside of the box thinking from official sponsor Bud Light, with their reactive limited edition box design in partnership with Wieden + Kennedy. Now our favourite England players' cheesy mugs have been wrapped onto the outside of the box to create a weirdly hilarious 'beer mask' to wear during the game.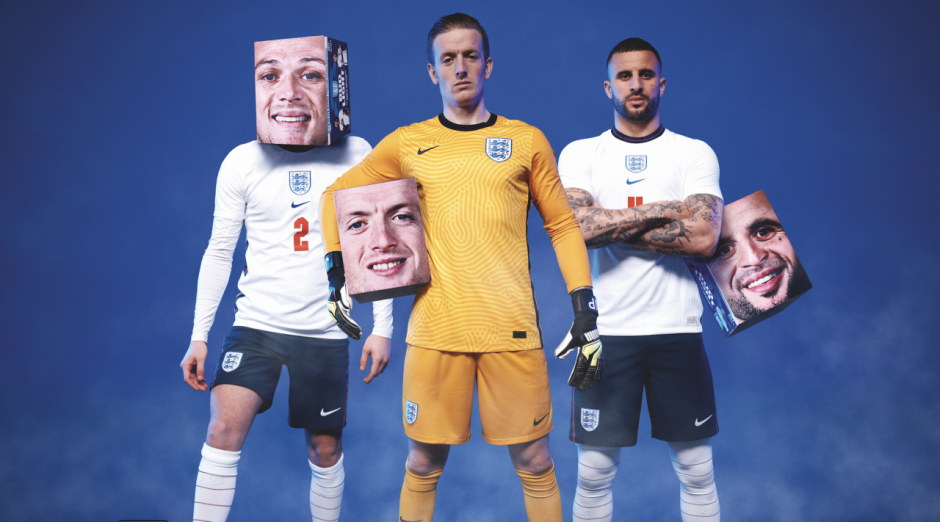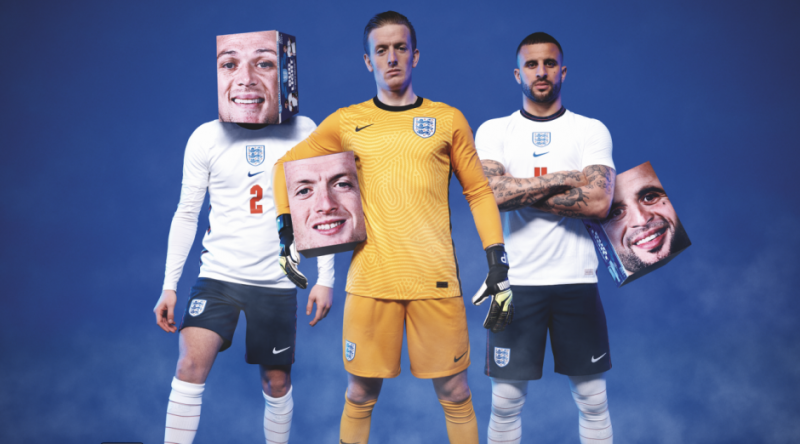 Deliveroo: It's coming home
Deliveroo has created a cheeky OOH campaign that plays on the rivalry between England and Italy in the lead-up to the final.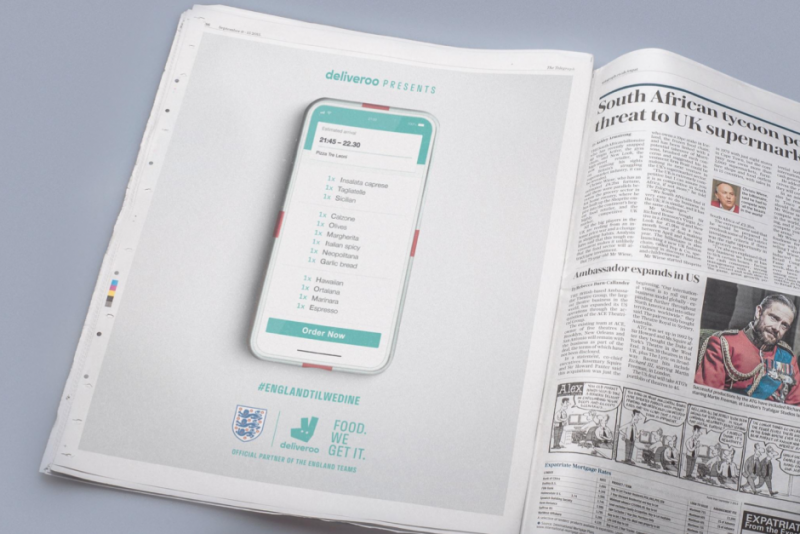 A series of tactical posters during the final game will feature a list of classic Italian cuisines to order on the Deliveroo app. For those that look closer, they'll notice the secret message, "It's Coming Home".
BT: Hope United
Ahead of the Euros, BT released their 'Hope United campaign' featuring a diverse team of footballers that have come together to tackle online hate and abuse.
Developed by Saatchi & Saatchi and managed by Rio Ferdinand and Karen Carney. Hope United's squad of footballers draws on personal experiences of online hate and their relationships to social media.
A free resource of BT tech tips is also provided, giving people the digital skills, they need to tackle hate online at a time where the issue is at the forefront of the sporting world.
McDonald's: A quarter off for the quarter-finals 
Despite not being an official sponsor of the Euros, McDonald's couldn't help but join the bandwagon. During the quarter-finals, they gave customers a whopping 25% discount on all their menu items. Who knows, maybe the final will be 50% off… Keep an eye out.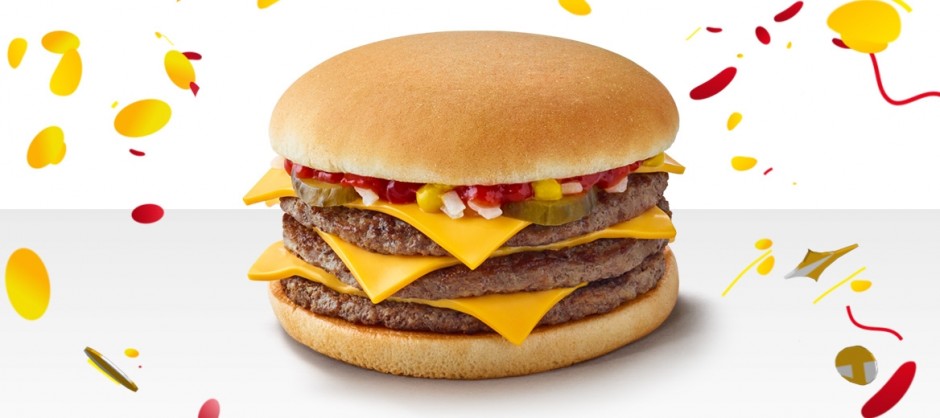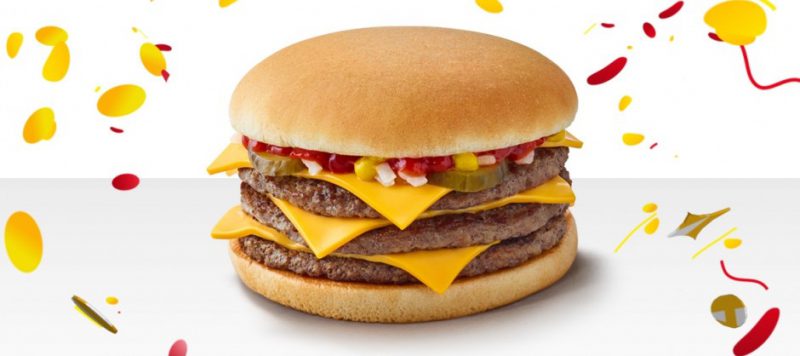 SportBible: Has it ever been home? 
In response to Kaspa Schmeichel's controversial press conference where he asked 'Has it ever been home?' SportsBible released their reactive billboard in Manchester and on White City Circle roundabout last night, immediately after the nail-biting 2 – 1 win over the Danes. The announcement? Denmark is going home.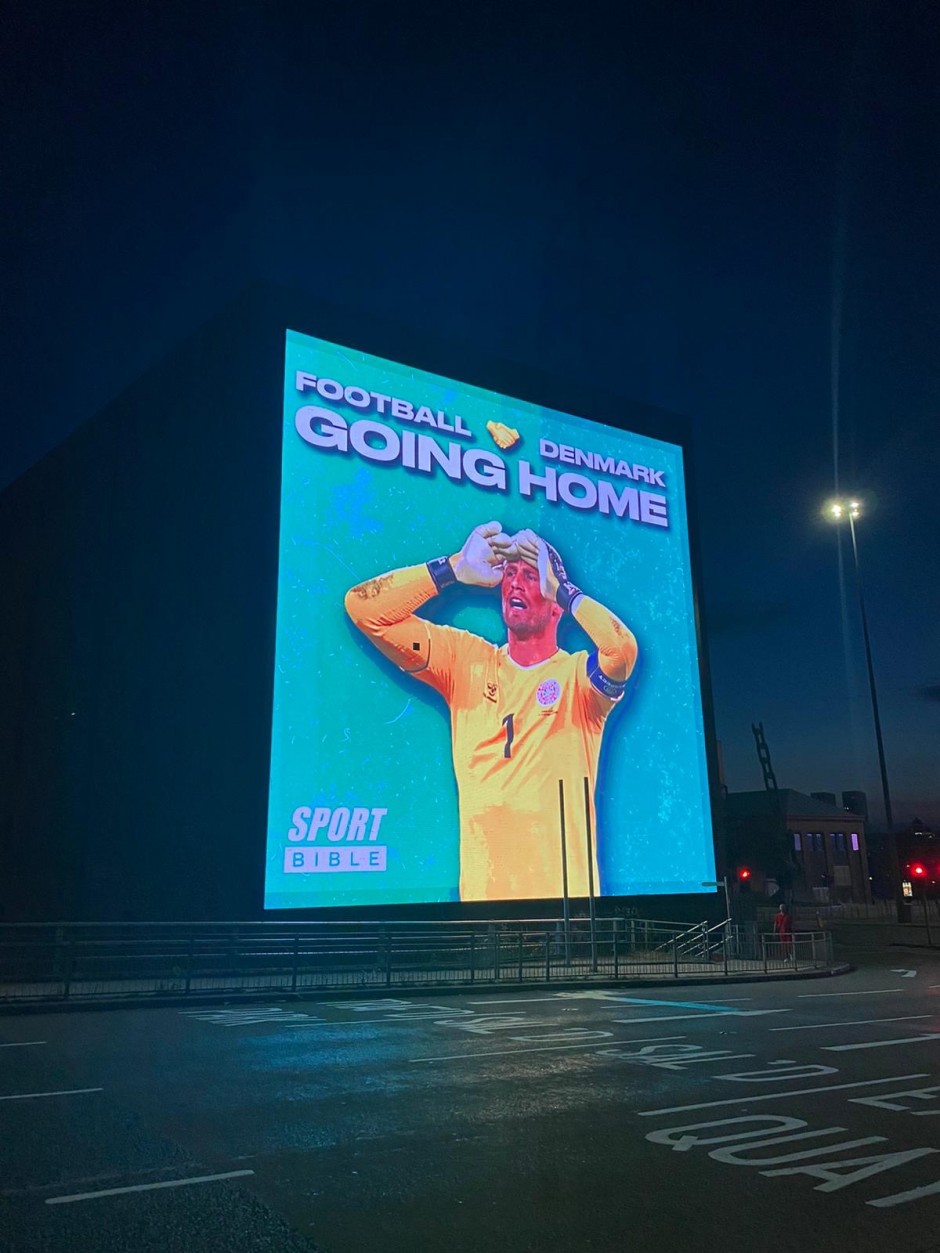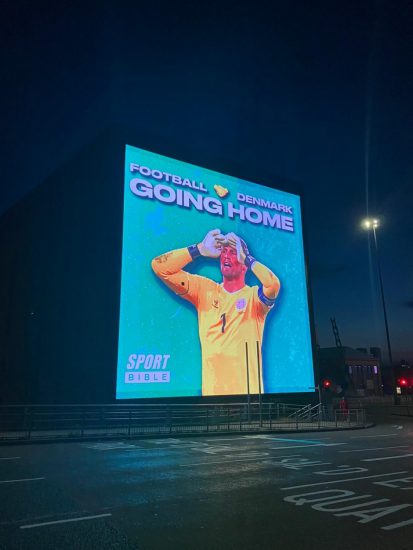 Paddy Power: Euro 96 
In classic Paddy Power fashion, the brand has responded to England's recent success by creating a spoof mockumentary based on the Euros 96. Despite being kicked out by Germany in the Semi-Finals, some of us like to remember it a little differently…
The campaign features former players Teddy Sheringham, Sol Campbell, and Peter Crouch reminiscing about their non-existent victory back in 96. They're joined by Eastenders actor Shaun Williamson who attended the game with none other than the Queen!
Nationwide Building Society: Sign Your Support 
Nationwide introduced a campaign to help money go to the place where many players started their careers. Their campaign #SignYourSupport aims to help their customers showcase their passion for the sport but also their commitment to protecting its value.
Big thanks to @Arsenal legend and @England centre back @martinkeown5 for signing his support and joining us in standing for mutual respect within football ⚽

Want to #SignYourSupport ahead of Saturday? 🏴󠁧󠁢󠁥󠁮󠁧󠁿 Head to: https://t.co/7nWsBnU3Xa pic.twitter.com/2GD7yZ0h5L

— Nationwide Building Society (@AskNationwide) July 2, 2021
For every signature signed on the dotted line, the building society will donate £1 to the Mutual Respect Grant fund to help support grassroots football up to a maximum of £50,000.
Specsavers: It's coming home 
Adding to the fun are Specsavers, who alongside their social agency Tangerine Communications erected a spoof eye test chart in an OOH that spells out the words we have all had in our minds during England's progress: "It's coming home"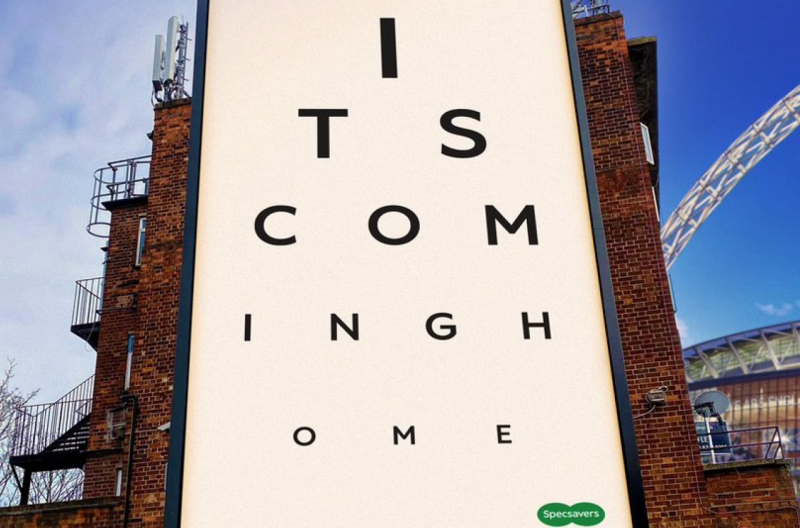 Morrisons: Discounts against Denmark
Morrison took to the stage to offer discounts to shoppers for their half-time snacks for the semi-final against Denmark last Wednesday. In its competitive streak, they only offered the discount to England – unfortunately, Scotland and Wales did not qualify…
It's coming home! Are you ready for the big match against Denmark on Wednesday? Bag yourself a half time treat. It's 3 for £3 on loads of your game snacks and goodies! Get the beers in at just 3 for £20 on selected boxes. Excludes Scotland and Waleshttps://t.co/pK2Coh6ndu pic.twitter.com/iD2yIbRINw

— Morrisons (@Morrisons) July 5, 2021
The Sun and BT: Newspaper raids 
Notorious British and Danish tabloid papers The Sun and BT had their battle in the days before the semi-final. The Danes released a print ad in the British paper, The Sun – taking a stab at the unofficial anthem, Three Lions, and 'promising a return to the Viking invasions of centuries past.'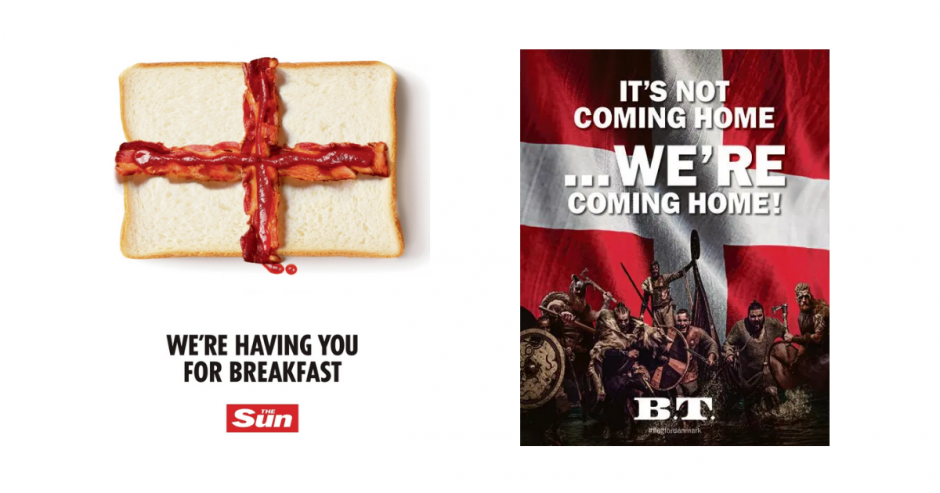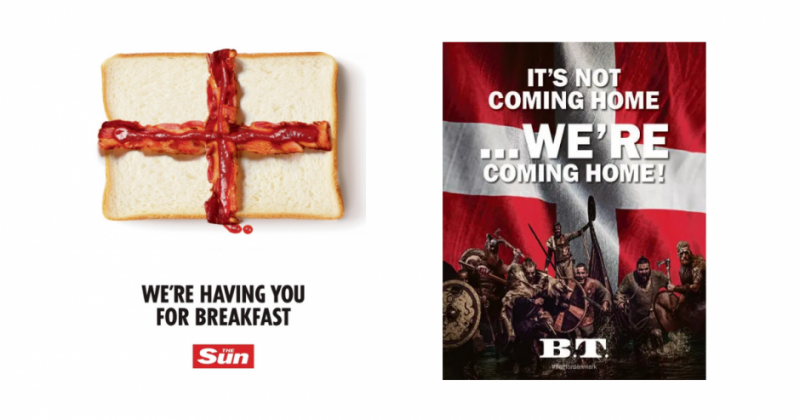 In response, The Sun took its ad in BT featuring Danish bacon arranged in a St George's Cross above paired with the words in Danish "We'll eat you for breakfast".
EE: Lions' Den content series 
Lion's Den is back! After a longstanding partnership with the FA, EE returns once more with their content series 'Lion's Den' located at the team's basecamp in St Georges Park. Hosted by Denzel, 'Lions' Den connected by EE' features in-person interviews with the players and the opportunity for fans to have a chat with them over video call every afternoon!
Publicis Dublin: Three Lie-Ins 
In solidarity with England reaching the final of the Euros on Wednesday, Publicis Dublin is offering its English employees "three-line ins" if the Three Lions squad brings it home. The initiative was developed with the sound prediction that sore heads and hangovers will be rife amongst staff after the final on Sunday the 11th.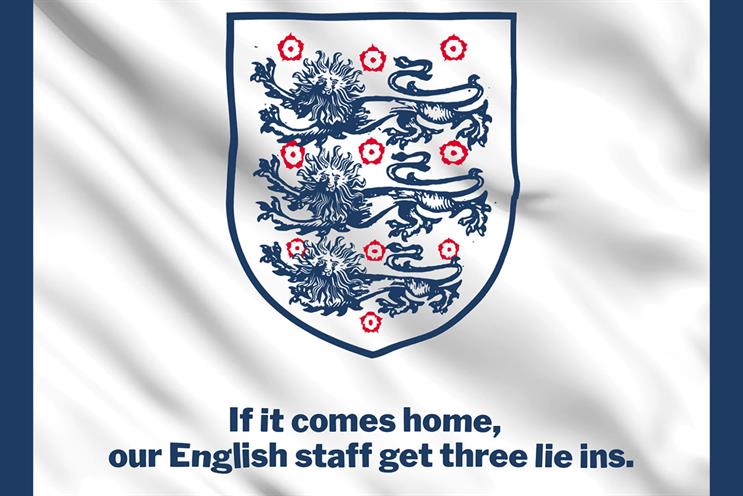 The company announced its decision by overlaying the England logo with its lion logo.To make things easier for their staff, Publicis Dublin has also prepared an out-of-office email: "If you're contacting me pre-1pm, I'm in bed. My manager has given me three lie-ins to celebrate England's Euro 2020 win."
English supermarkets and 'It's coming home
If you live in England, there's a high chance you've heard the familiar sounds of Baddiel's and Skinners 'Three Lions' at some point in the last two weeks (or hour).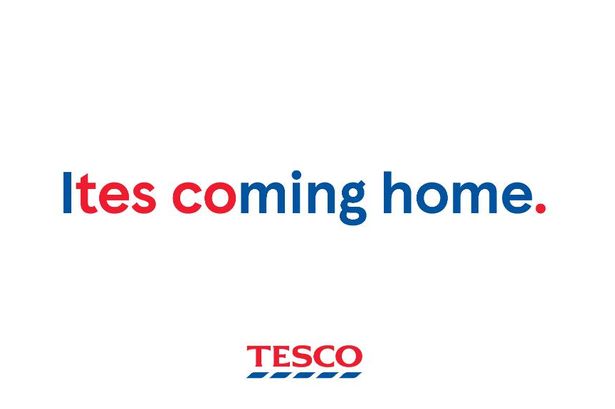 Tesco's effort to gather a couple of laughs from its shoppers, however, didn't go down as planned. Having been mocked online by the public, other supermarkets including Sainsbury's, Iceland, and Ocado wanted to weigh in too.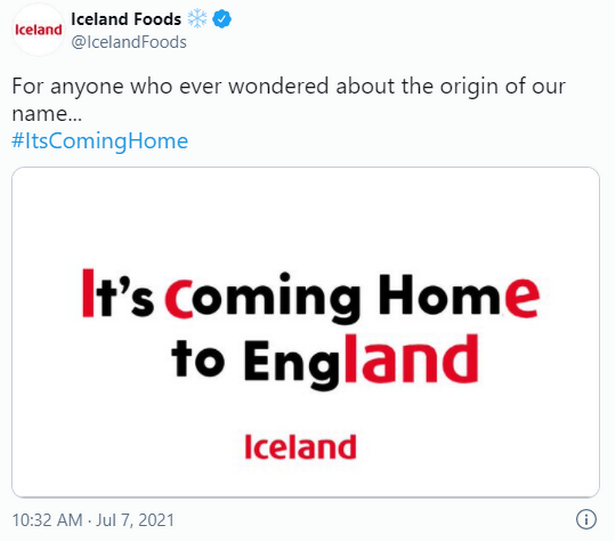 Written by Hannah Priestley & Joe Colquhoun