#viralkindess campaign launched offering help to those self-isolating
By James Herring on Sunday, March 15, 2020
A woman in Cornwall has created a postcard campaign aimed at helping people who are self-isolating during the Corona Virus pandemic.
Becky Wass, 32, came up with the idea to create shareable cards to offer help to neighbours.
The cards, which are available to download online , include boxes for neighbours to offer help with picking up shopping, urgent supplies, posting mail or even just "a friendly phone call".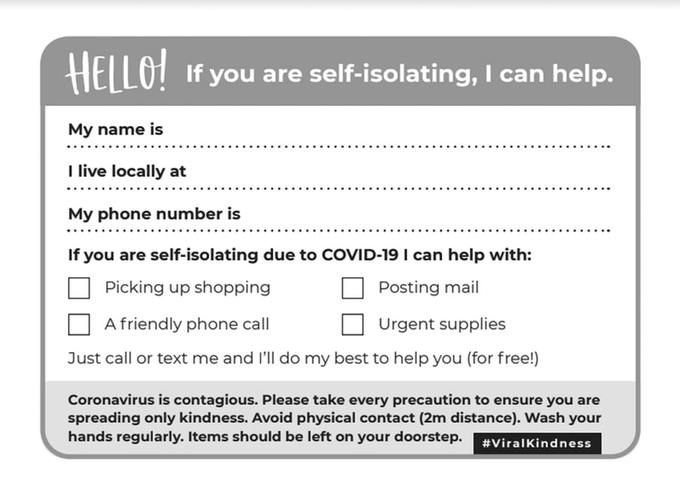 Becky Wass, a lecturer in Cornwall  told Cornwall Live: "I was talking to my husband John about how the news was quite hard-hitting and there wasn't much we could actually do to make a positive difference."
She wrote on her Facebook page "I've been feeling pretty helpless watching the news. Maybe you have too? I wanted to do something about it, so I've made a postcard that I'll be posting to my older neighbours as this progresses (after washing my hands!). If just one person feels less lonely or isolated when faced with this pandemic, then I'll feel better about it (I hope!) Coronavirus is scary. Let's make kindness go viral. Feel free to share/print/use."