Swiss Street Vendors Get a Boost with New Billboards
By Lucy Turner on Tuesday, February 11, 2020
Surprise Magazine and Serviceplan Suisse have launched a new billboard campaign, designed to bring attention to some of Switzerland's socially-disadvantaged street sellers.
Surprise, which is part of the International Network of Street Papers (INSP), offers disadvantaged people an opportunity to earn an income by selling the magazine. Over 400 vendors sell the magazine to readers in Zurich every day.
In order to help them sell more magazines, communications agency Serviceplan Suisse decided to give them an even more eye- catching platform by using the posters in a completely new way. These 'poster kiosks' are not just designed to draw attention to the vendors, but also to function as a point of sale.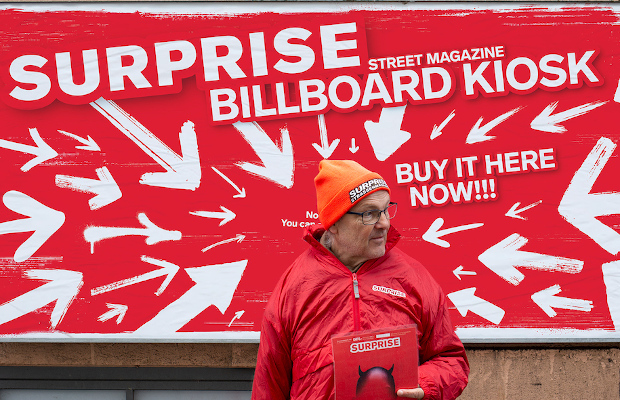 "We are putting the focus on people with this campaign. Each Surprise vendor has their own moving story," says Andreas Jahn, a member of the marketing, fundraising and communication team at Surprise, about the campaign.
As part of #VendorWeek, a campaign launched by the INSP for its 9,000-plus street magazine vendors in 35 countries, Serviceplan Suisse turned several posters into Surprise kiosks. During #VendorWeek, the vendors can use the posters to sell more magazines. If there is no vendor at the point of sale, passers-by can scan a QR code to access profiles of the vendors and learn more about their stories.
The posters were in place from 3rd to 9th February 2020 in areas with high footfall in Zurich's city centre and Oerlikon and were provided by Clear Channel.