Coca-Cola honours Australian firefighters with limited-edition can
By Leah Moir on Wednesday, January 15, 2020
Coca-Cola has announced the launch of a limited-edition version of its famous 'Share a Coke with' cans, giving back to the Australian firefighters ('Firies') who have been working across the country battling the Australian bushfires since September last year.
The limited edition 'Firies' can isn't available for purchase, instead will be donated exclusively to the firefighters, volunteer fire organisations and fire-affected communities – as an "expression of thanks".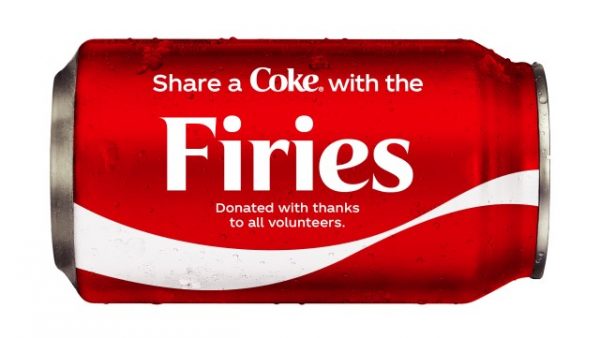 Alongside the cans, The Coca-Cola Foundation, Coca-Cola Australia and Coca-Cola Amatil are making momentary donations to a number of immediate disaster relief foundations. They will also establish financial support packages for small businesses affected by the wild fires.
Coca-Cola Australia President, Vamsi Mohan Thati, said the company remains committed to supporting bush fire-affected communities.
"We wanted to express our gratitude and heartfelt thanks to all the firies and volunteers on the front lines of this national crisis. We are humbled by their courage and resilience as the bushfire tragedy continues to unfold here in Australia," Thati said.
Coca-Cola's 'Share a Coke' campaign first appeared in 2011.
Source: Mumbrella