Spotify are back with another brilliant outdoor campaign
By James Herring on Tuesday, September 17, 2019
Spotify have launched their Autumn outdoor campaign 'Listen Like You Used To' – calling out the cultural differences of the last decade.
A series of witty building banners, digital signs and other platforms have been unveiled and are winning a load of well deserved praise on Twitter.
A drop banner on London Rd Manchester reads '1998 – Baggy jeans and chokers are in. Spice Girls are on tour. 2019 – Ditto.'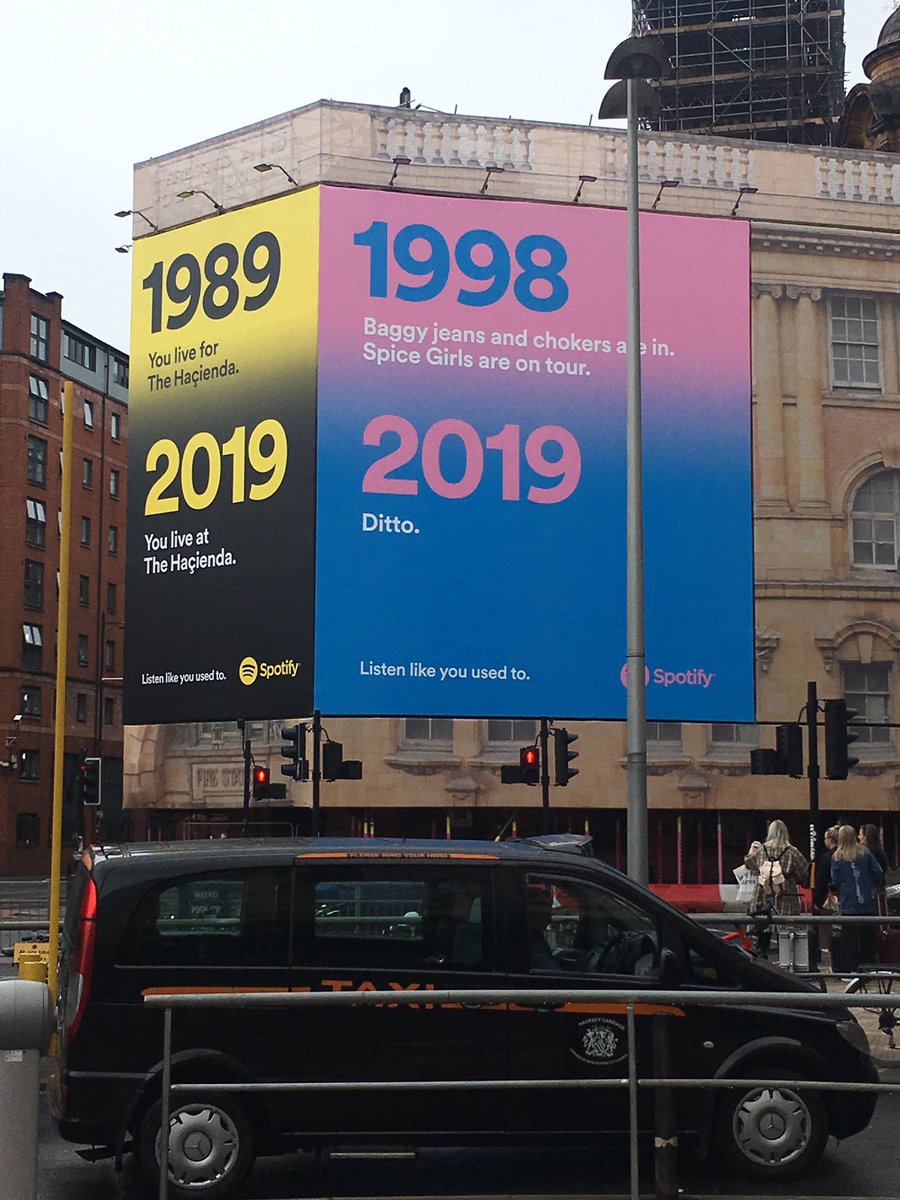 Tom Godwin, Head of Innovation at Zenith Media tweeted 'With excellent strategy, an idea , simplicity, clarity, great copy, nice artwork, and no nonsense data for the sake of it.'
The @Spotify adverts on @LondonRoadMCR are perfect ? pic.twitter.com/hXlL2Bua34

— Jason Mayo ? (@MadeByMayo) September 16, 2019
Another execution reads '1983 – UB40. Red Red Wine. 2019 – You be forty. Red red wine'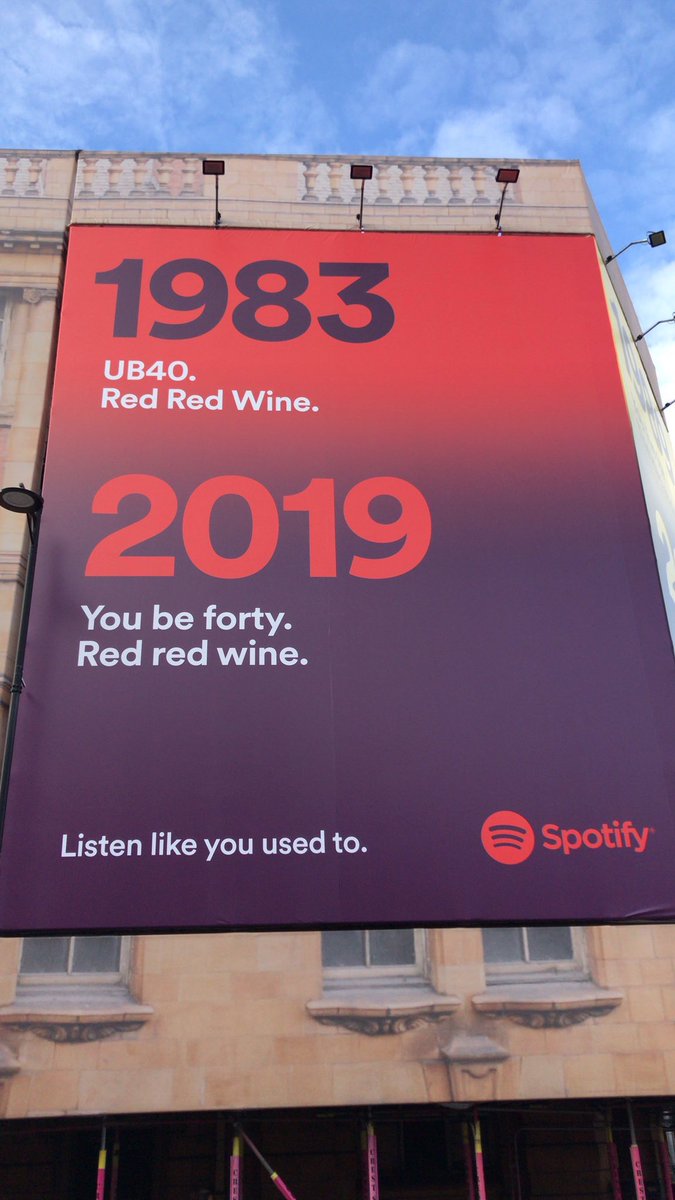 A Clear Channel bus shelter in Cardiff displays '1995 – Smashing Pumpkins. 2019 – Smashing Avocados.'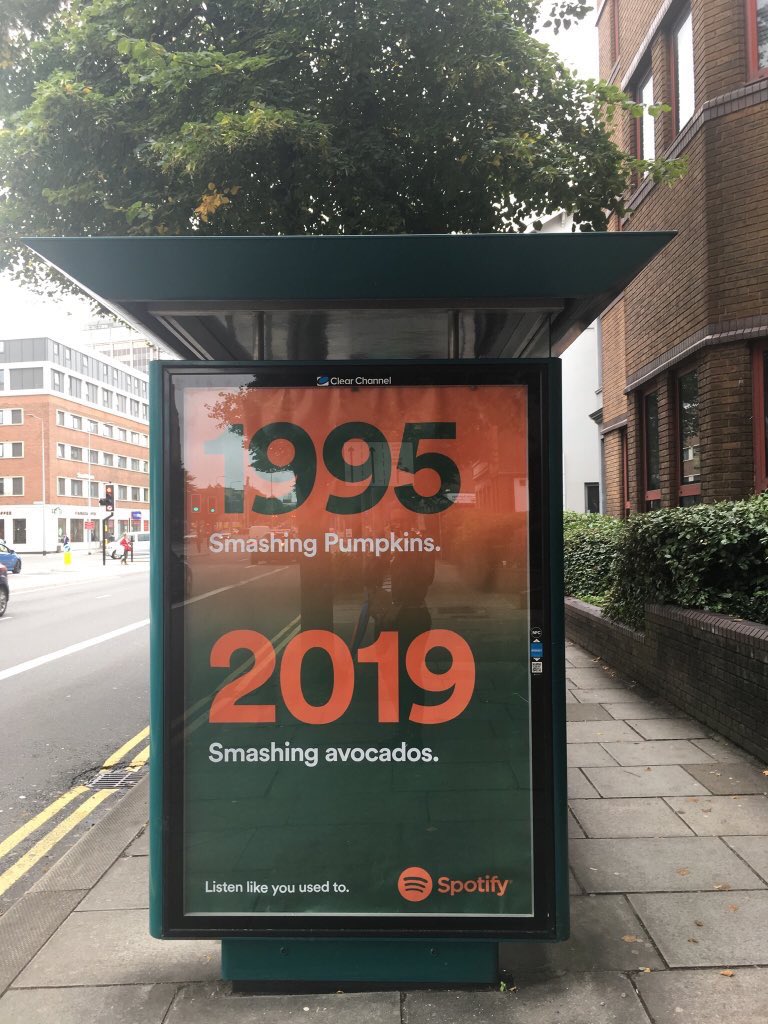 Spotted in Cardiff pic.twitter.com/wxiMPd695F

— Gemma Tee-Eff (@FooseMoose) September 16, 2019
Who wrote these? More please #copywritersunite
(Second image via @haydngrey – thanks Katherine!) pic.twitter.com/B8wXRHrkpZ

— Vikki Ross (@VikkiRossWrites) September 16, 2019
Copy gold @SpotifyUK pic.twitter.com/CW9v3am8Aw

— Johan Bryngelson (@Bryngelson) September 16, 2019
Over the past two years Spotify has run data driven ads that share subscriber's more quirky listening habits, such as the fact there is a 'I love gingers' playlist with 48 Ed Sheeran songs on it, that Big Shaq's 'Man's Not Hot' was played 42 million times in 2017.
Credit: Why Not Why and copywriters  @pandamilk and @MrAliDickinson
James Herring is a partner at creative PR agency Taylor Herring