KFC promotes negative customer Tweets to promote new fries recipe
By James Herring on Sunday, November 4, 2018
Here's a great example of why embracing your flaws can be powerful creative tool.
KFC has changed its fries recipe after customers complained they were terrible – and is using customer's tweets to highlight the message.
The smart campaign sees the fast food giant promote negative tweets to highlight the problem – and the solution.
One customer wrote on Twitter: "Dear KFC, No one likes your fries. Yours sincerely, the entire world."
Another commented: "KFC are riding solely on their chicken because Christ, those are crap fries."
Responding to the harsh criticism, KFC told The Sun: "Three tweets. Three emotional daggers. They took a matter of moments to write, but they've lingered long and heavily in our hearts.
"Instead of crying into our (soggy) fries, we've decided to take action. Radical, potato-fuelled action."
One tweet by @Upgrade_Music is being featured on phone box posters.
Dear KFC

No one likes your fries.

Yours sincerely,

The entire world.

— Upgrade ⬆️? (@upgrade_music) February 5, 2018
Dear @upgrade_music

You told us no one liked our fries.

So new ones are coming soon.

Yours sincerely,

KFC pic.twitter.com/DxPRh50apV

— KFC UK & Ireland (@KFC_UKI) November 2, 2018
The creative has also been used for print ads.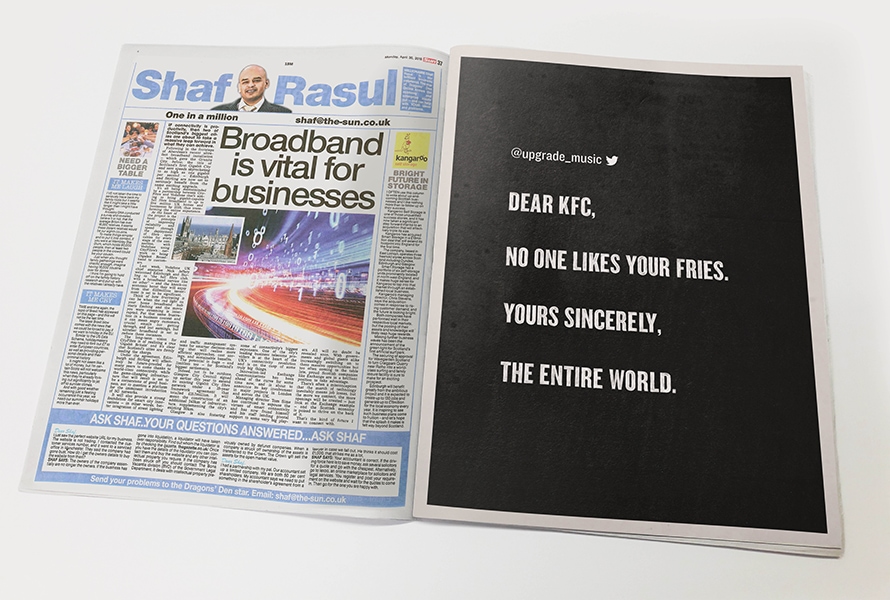 Agency: Mother
Related Reading> Why KFC's marketing stunts are so FCKing good