SVA Students riff on Apple's "Shot on iPhone" campaign to highlight issue of gun violence
By Georgina Vincent on Wednesday, April 11, 2018
Starting on the 24th March, the day of March of Our Lives, a series of posters were plastered across Manhattan to call attention to gun violence.
The guerrilla ads were created by two 26-year old School of Visual Arts students, Ji Kim and Andy Koo. They took inspiration from the Apple "Shot on iPhone" campaign, which showcased the quality of the iPhone camera and personal photography. They have kept the campaign dimensions and fonts very similar but swapped the tag line to "Shot with AR-15", replaced the Apple icon with the National Rifle Association's logo and the images focus on devastating scenes of gun violence tragedies.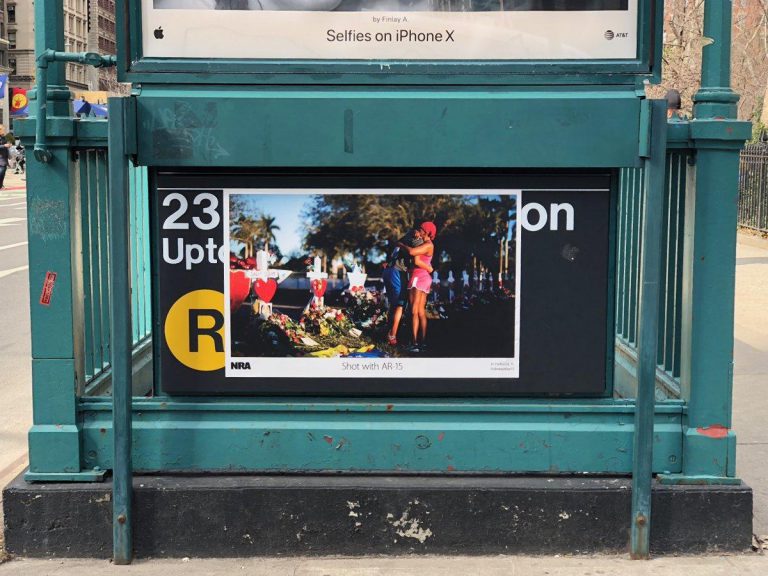 Kim states "We thought about what would be the most powerful way to raise awareness about this issue, and Apple's iconic 'Shot on iPhone' came up in my head, because the word 'shot' has two different meanings…We thought it was ridiculous that AR-15 was used in most of the recent mass shootings in the United States. And AR-15 was initially developed as a weapon of war, not for home or personal protection."
Kim and Koo created 12 different designs, which they printed over 80 times. The images focus on people mourning victims of recent AR-15 rifle massacres at Sandy Hook Elementary, Marjorie Stoneman Douglas High School in Parkland, Las Vegas and Pulse Nightclub in Orlando. They now intend to expand the campaign beyond New York to other cities in the United States.