Top 10 PR and marketing stunts and campaigns of August 2017
By Rich Leigh on Friday, September 1, 2017
So, big news (to me, anyway – your mileage may vary) before we get onto the top 10…
After nearly 6 years, I'm selling – or retiring – this very site. Here's more about it, including, well, WHY, and how to get in touch if you are possibly interested in taking PRexamples over.
As mentioned in the post, I've decided that the next round-up, for 2017 (out in mid-late December) will be my last running the site.
It will be business as usual until then, but I think I've taken it as far as I can take it with the time I have to give. I've struggled to give it the time it deserves and feel like there are other projects I want to get to, as well as the running of my agency.
There are two things that will happen thereafter:
1. I will continue to pay hosting to preserve the site, as is, for as long as there is traffic, to ensure people are still able to search for and read through posts – though no new posts will be added, OR

2. Somebody makes me a sensible offer for the site and it is given a new lease of life
My thanks and more are all made in the post, but of course, they're extended to those that don't read it, too. You've all been beautiful.
---
Here, in reverse order (and based solely on the number of unique views each post received), are the top ten PR and marketing campaigns throughout August 2017:
---
10. Chessington gave away free family tickets – IF parents locked their phones away for the day! – posted by Donna Clapp
Theme park Chessington World of Adventures announced that they would give free tickets to 10 families over one busy Bank Holiday weekend – as long as they left their phones at the entrance.
Photo-happy parents were given disposable cameras to document their day 90s-style.
9. John Lewis is opening a replica Star Wars Cantina Bar this weekend
To celebrate the launch of 'Force Friday' (me neither), John Lewis is hosting a replica Cantina Bar pop-up from 1st-3rd September in its Oxford Street store.
Not only will fans of the franchise will be able to get their hands on the very latest Star Wars merchandise, but they'll be able to try the 'Spice Smuggler' cocktail and 'Kessel Run' mocktail.
There'll also be augmented reality treasure hunts and build-a-droid workshops within the Oxford Street store.
8. Hidden job ad found in Apple's site source code
An advert for an engineer at Apple has been found hidden in the company's website.
The text on finding the ad says: "Hey there! You found us", and says the firm is looking for "a talented engineer to develop a critical infrastructure component".
This isn't the first time a job has been hidden in the source code of a website, not generally an area less technically able people will find themselves. It's a shareable and PR-worthy tactic previously used by brands like Flickr and even the Guardian, here from back in 2015.
7. Virgin Media launches new kids app with giant trampoline bed in London
Virgin Media launched its brand new kids app with – of course – a giant trampoline bed in Kings Cross, London, off the back of research that said kids love to, erm, jump on beds.
Designed to look like an adult's bed, the 15 square foot trampoline was put in London to celebrate 'what it means to be a kid at any age' and launch the new Virgin TV Kids App.
If I sound miserable, it's because it's getting late on a Friday and my to-do list is getting no shorter, and I'm gutted to have missed the chance to jump on the bloody thing.
6. Disney's #DreamBigPrincess campaign inspires girls to dream bigger – posted by Donna Clapp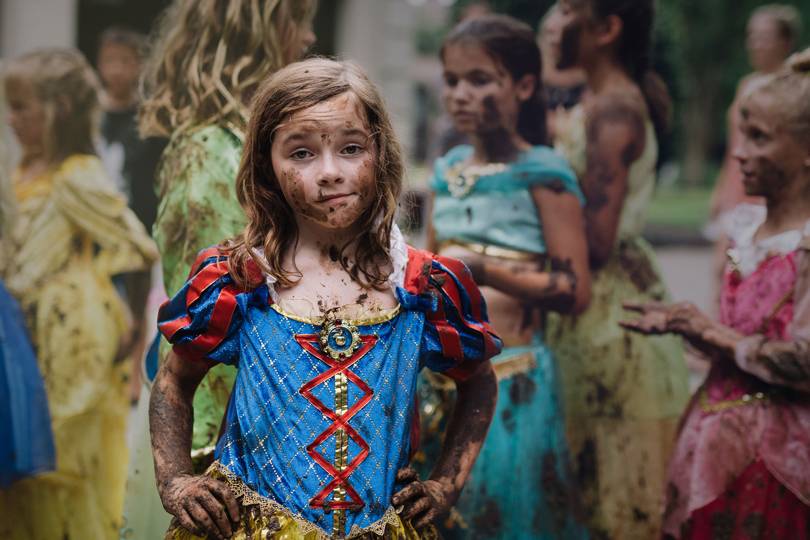 In a nicely put-together campaign (quelle surprise), Disney asked 19 female photographers from 15 countries to shoot positive images of strong women as part of its #DreamBigPrincess campaign.
The images include the youngest female to speak at the United Nations, a Chinese Paralympic Gold medallist and a teenage author of a STEM coding book for kids.
For every image that is shared using the hashtag #DreamBigPrincess (or liked on social media), Disney will donate $1 to the United Nations Foundation's 'Girl Up' campaign, which promotes leadership in young women, with the aim to raise $1 million.
5. New position (cheeky!) for professional masturbater hits headlines
I almost feel bad including this straight after that Disney campaign, but hey, this was more popular this month, you horrible lot.
Adult store LoveWoo is on the hunt for an employee to review sex toys… professionally. The full time role comes with a £28,000 annual salary, private healthcare, holiday time and a discounted gym membership.
Following a tried and tested 'job ad' PR path, the stunt picked up coverage in the likes of the BBC, The Sun, Metro.co.uk, The Mirror and The Independent.
4.Boeing map out a shape of a plane over USA
Not the first time a GPS path has drawn something out, but, ahem, the most recent. Hey, it works.
Set up as an endurance test for the new Rolls- Royce engine, the testers marked out the shape of a Dreamliner (the name of the aircraft) above the USA.
The 17 hour, 46 minute flight started August 2nd and ended the following day, taking off and landing at the Boeing Field- King County International Airport, in Seattle.
Covering 15,766 miles it marks the longest commercial flight in the world.
The flight was tracked live on websites such as FlightAware allowing people to follow the plane on its journey.
3. Walkers threaten to ditch three of its best-loved flavours – posted by Holly Freeman
Putting its fate in the hands of the British public, Walkers Crisps is asking people to 'choose me or lose me?' by voting for their favourite flavour in the new campaign.
Each 'British' original flavour is being challenged by a new international inspired flavour. American Bacon and Cheddar challenges the popular Smoky Bacon, Spanish-inspired Paprika going against Prawn Cocktail and the classic Salt and Vinegar versus lime and black pepper from Australia.
The #chooseorlose 'crisp referendum' started August 14th and closes on October 22nd
2. Marathonbet.com makes pigs fly to promote new offer – posted by Lydia Bryant
I'm a fan of a good literal PR stunt – like Jim Moran's bull in a china shop stunt in 1940. Add one pinch common saying to one dash still-oddly-PRable technology and you get this effort.
Betting website Marathonbet.com made pigs fly on Brighton Beach to reflect the very narrow chances that either Brighton, Huddersfield or Newcastle will win the league – and the outrageously good odds they're offering.
1. Match.com opens pop-up 3D-printed dating shop in London – posted by Angharad Welsh
Online dating giant Match.com opened a pop-up model dating shop in London – and it's a deserved winner this month, I think (ignoring the outcry there would have been had it been female figurines quite literally 'objectified', but HEY, for normal people, it works well either way).
Men from the site were created as 3D printed figures for the 'Model Males' shop in Marylebone for potential dates to browse (with a free glass of prosecco).
Information about each male was written on their packaging, while the miniaturised 3D model gives shoppers an idea of what they look like. If interested in learning more, shoppers were then able to contact each man by following a link on the packaging.
---
As always:
If you'd like to write for the site – please do sign up to do so by clicking right here and filling in the short form.
If you've seen or are working on any great stunts or campaigns, please email me – rich [at] prexamples dot com (or tweet @PRexamples or @RichLeighPR)
Subscribe to our monthly newsletter, highlighting the best PR stunts and campaigns
---
Thanks for reading