Schweppes launches Alchemy Bar for London Cocktail Week
By Cal Gable on Friday, September 29, 2017
Soft drinks brand Schweppes has launched The Schweppes Alchemy Bar to coincide with London Cocktail Week. The bar is set to open on October 2nd, and stay open for the duration of London Cocktail Week.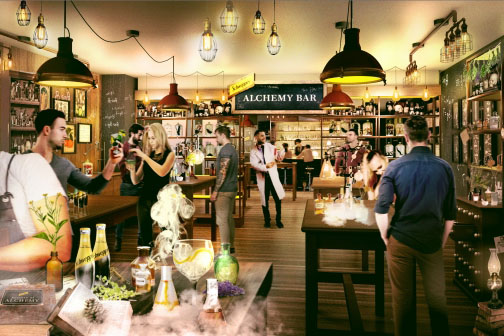 The drinks giant's pop up bar will teach people about the "science of cocktail making", as well as give guests an array of of "unconventional flavour pairings and cocktails".
The experience is taking place in a hidden bar where visitors will take part in an exclusive cocktail making session – and will be using original recipes from Jacob Schweppe himself.
In order to enter the "secret bar", cocktail-lovers will need to book onto the experience – resulting in them being given a key to unlock the door to the secret area. Attendees will also be able to try a brand new Schweppes drink at the end of the experience.
I think the campaign has a different twist on the traditional pop-up shop stunt and will also be a lot of fun for people who attend. There will more than likely be lots of pop-up experiences during the week – however I think that Schweppes' campaign has a unique twist which incorporates their brand and is relevant to London Cocktail Week.