Harry Potter fans can have Christmas dinner in Hogwarts' Great Hall this December
By Rich Leigh on Wednesday, September 30, 2015
I have a feeling some of you might need a minute to take this in.
For one night only, guests are being given the opportunity to eat Christmas dinner in Hogwarts' Great Hall at the Warner Bros. Studio Tour, just outside London.
Taking place place from 6 p.m. to midnight on Dec. 3, attendees will be given a two-course meal, no doubt with a number of magical surprises and guest appearances, before being let loose to take in the rest of the two studio set tour. I actually took my wife and two minis a couple of weeks ago for her birthday and I have to say, it gets pricey, but is well worth it for fans.
On that note, the evening, which as well as the two courses includes canapés, Butterbeer, a character wand, desert, drinks and entrance to the tour — will cost you £230 (standard adult tour tickets are around £30).
You can book here. Diners will be sat at tables of 10. The only downside is that the first ever 'Dinner in the Great Hall' is only open to over 18s – a huge shame for younger fans.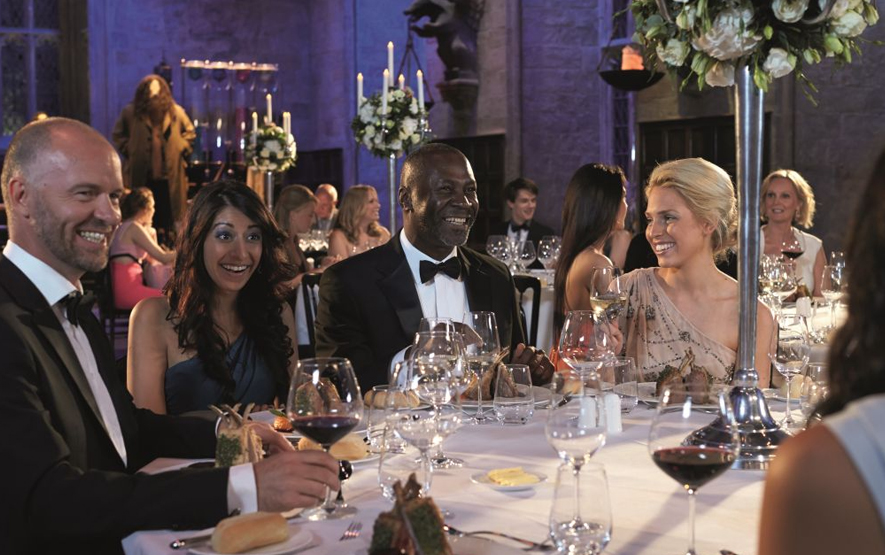 Here's an itinerary of the night:
5.40pm Catch the shuttle bus from Watford Junction train station (£2 return – or, presumably, drive and park there like we did).
6.00pm Arrive at the Studio Tour for welcome drinks and canapés
6.30pm Enjoy the holding room and cinema experience
6.50pm Enter the original Great Hall set
7.00pm Take your seat with other excited Harry Potter fans as you enjoy a two-course Christmas dinner in the set that hosted Hogwarts' famous feasts
8.45pm Explore the remainder of the Studio Tour and enjoy a selection of festive dessert bowls onPlatform 9 ¾ as well as a cup of Butterbeer in the backlot café
10.15pm Conclude the evening with music and dancing (a bar will be available for those who wish to purchase additional drinks)
Midnight Depart (shuttle buses will return to Watford Junction train station)