Members of the public asked to donate voices to Waitrose's Christmas charity single and TV ad
By Rich Leigh on Monday, October 20, 2014
The last few years have seen some impressive campaigns based around TV ads, with John Lewis no-doubt gearing up its festive efforts to make you simultaneously cry AND hand over your hard-earned cash (here's the 2013 John Lewis ad and wider marketing campaign – and, because I'm good like that, all its others, too).
This year, upmarket supermarket chain Waitrose is, in its own words, 'doing something a little bit unusual for Christmas', by asking members of the public to star in its TV ad.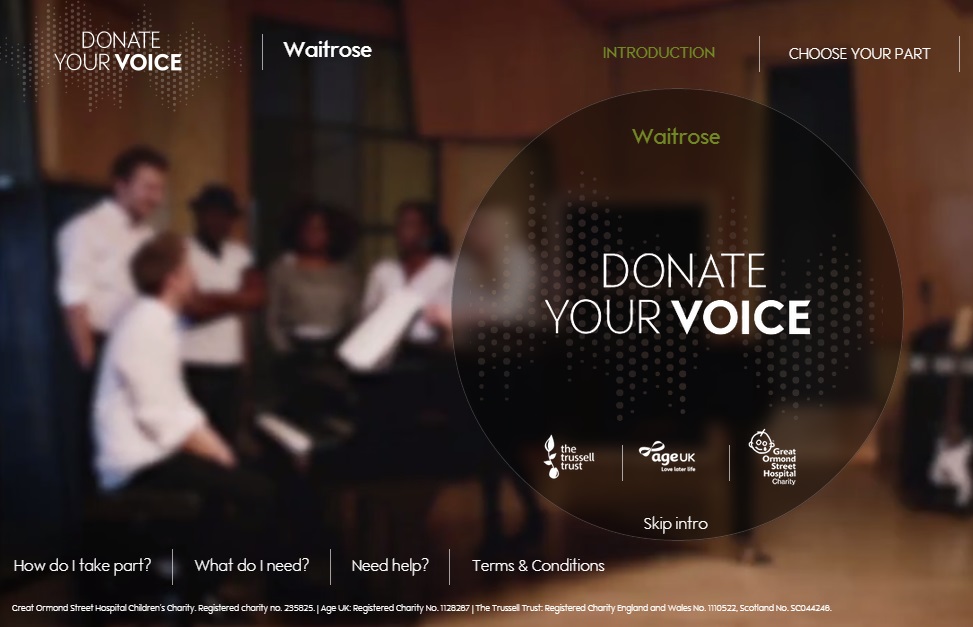 Would-be choristers are being asked to record themselves singing along to Dolly Parton's 'Try' on the campaign's 'Donate Your Voice' microsite. The collective result, presumably with some (heavy) editing, will then be released as a charity single and also used in Waitrose's Christmas TV ad. Submissions will be accepted up to midnight of Tuesday 28th October.
100% of the profits from the song will be split between Great Ormond Street Children's Hospital, Age UK and the Trussell Trust.
It's been nicely put together and by opting for user-submissions, Waitrose has been able to put itself to the fore of the editorial around this year's Christmas ads.
The campaign is, in a way, a big brand appropriation of Eric Whitacre's 'virtual choir', which, in 2013 received more than 8,400 video submissions to create this song:
Read more: Telegraph