Kiss Lung Cancer Goodbye
By Hannah James on Friday, June 13, 2014
Topshop have 'inspiringly' aka cleverly taken advantage of the recent #redlipstickselfie. After the huge global success of the #nomakeupselfie, a new Twitter seflie is gaining momentum, however it is now in aid of lung cancer. Topshop are selling a limited edition red lipstick so they can personally raise money and awareness for cervical cancer.
The #redlipstickselfie was started back in April by Victoria Herd. On the just giving page for this new trend, Victoria said "I've started up this #redlipstickselfie campaign, to 'Kiss Lung Cancer Goodbye' but also because my mum loved wearing red lipstick… wherever she was, the beach, swimming, shopping, she would be wearing red lipstick. It was her signature look." Since its creation it has raised just over £1,110.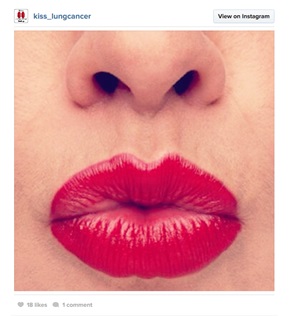 If you want to donate to Roy Castle Lung Cancer, post a selfie with the #redlipstickselfie hashtag, and text KISS76 £3 or £5 to 70070.