Connecting clients with freelancer marketers and small agencies – the stats so far
By Rich Leigh on Wednesday, April 30, 2014
Towards the end of the day yesterday, I sent an idea I've been sitting on for a week or two out into the ether. I've done this a few times in the past – including when I first announced the very site you find yourself on – and, everytime, I get that same nervous feeling I've begun to associate with putting an idea out there for people to pick apart.
The idea was one I believe can help the marketing industry – so, not just PR, not just social media, but the wider disciplines such as search marketing, online ad management, event management and copywriting.
It was an idea to turn the community and databases I've built over the last few years into a network that could prove both useful and profitable to every person on it and using it.
So what is it?
I released the catchily-named client – marketer matchmaking service (for freelancers/small agencies) sign-up form and peeked through my fingers to see how freelance marketers and small agencies would react.
Barring the inevitable couple of unsubscribes I had from the newsletter (much fewer than anticipated), the response has been resoundingly positive, with some excited and very welcome emails and tweets.
Although I'm not 100% certain, as it would require me putting some money to its development, it certainly makes sense to go ahead and create a publicly searchable website on which freelancers and small agencies can be found by potential clients/employers/partners.
How's it shaping up?
Now, I love data. If you, too, love data, you can see below how the data is shaping up, even at this early stage, with just fewer than 100 people signed up in England, Scotland, Northern Ireland, Ireland, the US, Canada, India, Australia, Hong Kong, Singapore and Dubai.
Graph one – the split between freelancers and small agencies:

A good split between freelancers and small agencies.
Graph two – areas those signed up specialise in: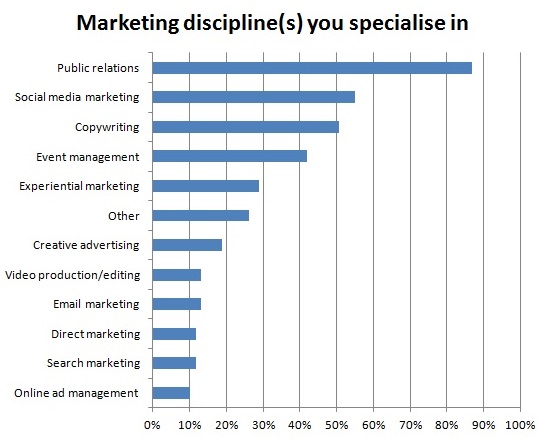 As you can see, so far (and unsurprisingly), PR practitioners are the best represented, but there have been sign-ups in every other discipline, too.
Graph three – years of experience: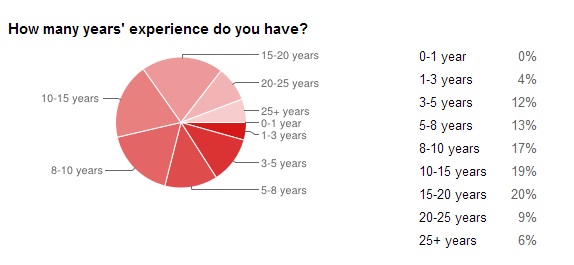 The number of experienced professionals on the database so far is extremely promising.
Graph four – Willingness to travel:

A friend said this idea might lead to recruitment agencies wanting to hunt me down and kill me. I can sort of see why, though I'm obviously not doing this to stick a spanner in the works. Once the data can be searched with filters (e.g. 'freelance event manager'), it should make finding potential agency freelancers, employees or suppliers simple.
Graph five – Days those signed up are available to work: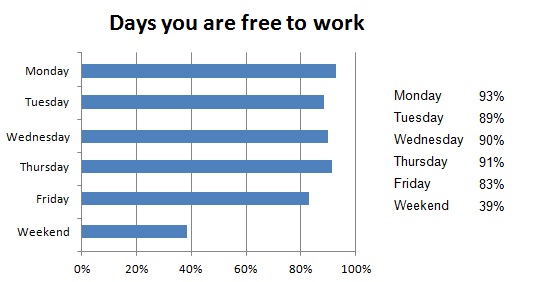 The thing that most surprises me about this is the number of people prepared/available to work weekends. Hard workers, that 39%.
Graph six – availability (by hours):

Likely to be more relevant when searching for a freelancer, but knowing if a professional has time available currently (and the form can be edited at any time) prevents wasted time and, hopefully, will encourage better matches.
Client experience:
A large number of people who've signed up have delivered award-winning work for what, in its entirety, reads like a who's who of brands. With up to ten clients listed by each person signed up, the list is too long to paste here, but it's filling out nicely and I'm confident this will be a useful search feature if/when I go ahead with the service.
Sector experience:
Every single sector (counting art, fashion, parenting etc as sectors) has, at the very least, a few professionals who've signed up to it. It won't be until it's searchable by filters that we'll see in which disciplines the sectors are well represented, but for now, as was all I was looking for, things are looking positive. I'd be very confident, for instance, that a company looking for PR in any sector could search through the data and find matches.
If, after all this, you are a freelance marketer/small marketing agency and would like to sign up to be found by potential clients, you can do so by clicking here. The more the merrier.
Thanks to Matt Muir, Stephen Waddington, Dan Glover and Nick Band for their support and feedback which, in Nick's case, was somewhat inadvertent!