April Fools' Day PR stunt round-up
By Rich Leigh on Tuesday, April 1, 2014
It's APRIL FOOLS' DAY.
Traditionally, one of my favourite days of the year, but this year, without unwitting colleagues on which to unleash my unique brand of 'humour', I'm simply sat in an office wistfully conjuring tricks I could have played.
All that aside, PR Land always has a lot of fun on April 1st, when members of the public are blatantly lied to in a bid to get a retweet. This here is a round-up, in no particular order, of those I and the ladies and gentlePRs of Twittertown have spotted. Feel free to tweet me @RichLeighPR if I've missed any, I'll be adding to it throughout the day, no doubt.
(Here are the top 5 April Fools' Day PR pranks from last year for completeness).
Firebox
After a raft of actual product tie-ins with the show (including 'meth ice cream'), gift and experience day site Firebox has created (Bryan) Cranston Pickle, a puntastic nod to hit TV show Breaking Bad.
Like Walter's blue meth concoction from the show, the pickle is blue and in a subtle nod that fans of the show (read: everybody) will like, the jar has a Heisenberg hat.
Betfair
Betfair and technology company Tab Fire Labs are have 'launched' the first ever robotic referee prototype – dubbing it 'RoboRef'. According to the release, it's capable of '100% accuracy':
BMW
BMW 'released' a Royal Baby-inspired buggy last year that went down pretty well. This time around, it's gone with something similar – the BMW ZZZ Series Cot, in which babies can hear and feel like they're in a car.
Having spent the twilight hours driving around with my then-colicky biggest mini when she was very little in order to get her to go to sleep, BMW might be onto something here:
http://www.youtube.com/watch?v=bWWITF5fTMs
Skittles
Glow in the dark Skittles. That's it, really.
Pokémon takes over Google Maps
As well as a couple of other much less-interesting pranks (check them out in this Pocket-lint round-up, in which most links are affiliate links, the clever scamps), Google has capitalised on the recent online furore around Twitch Plays Pokemon and published a video advert for a Nintendo Pokémon game that involves Google Maps. Google claims you can now use your smartphone to see Pokémon appear in front of you, like IRL:
Although an April Fools' Day joke (and one that our very own Casper Nielson has already written up here) Google will still let you actually catch 150 Pokémon with Google Maps.
Thorpe Park
Thorpe Park has become the world's first dog-friendly theme park by launching 'Thorpe Bark' today. According to this coverage, the park invited five of the UK's most daring dogs to trial the park 'after constant requests from owners'. After 'glowing reviews' (THEY. ARE. DOGS), that's when Thorpe Park knew it had to create a 'bring your dog to Thorpe Bark' event.
ThinkGeek
Gadget retailer ThinkGeek has crafted two April Fools' pranks for today – including the car charging flux capacitor and my favourite of the two (mostly because it would be an awesome actual thing), The Nerf Nuke, which 'can fire 80 Nerf darts in every direction'.
Domino's edible pizza box
As PRe contributor Jade Mansell has already noted here, Domino's has created the 'Edibox'. Yep, it's a box apparently made of pizza. It is smart, but that's it really.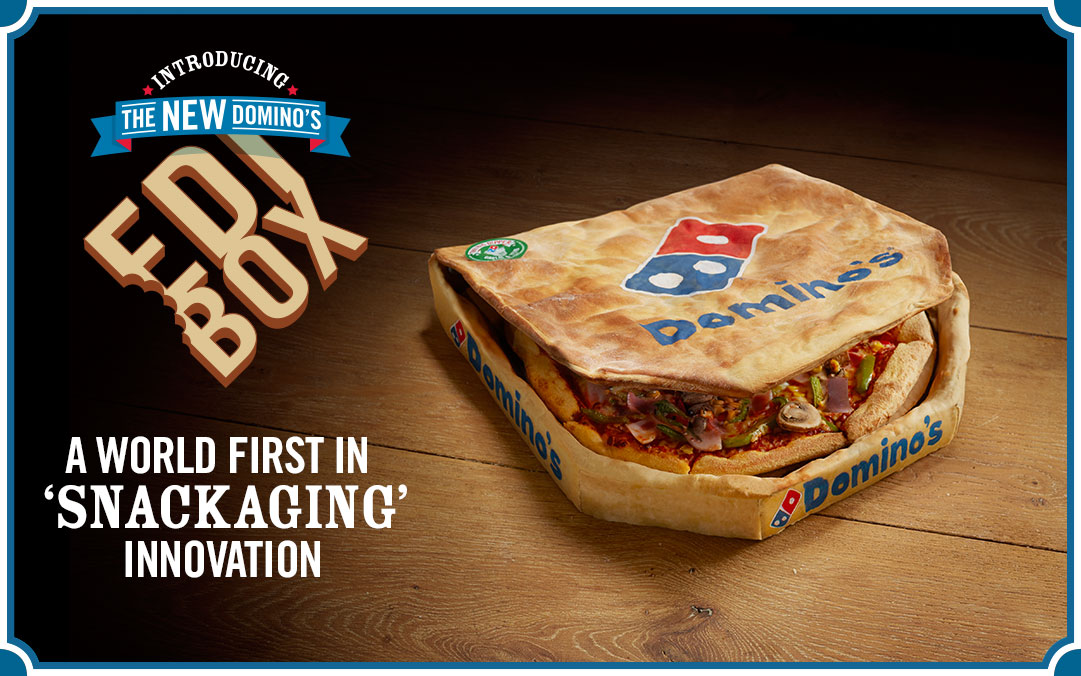 Samsung Fli-Fy
Pigeons are soon to be the answer to London's intermittent public Wi-Fi coverage, according to this Samsung stunt, which claims that Fli-Fy is currently being tested using 50 birds loaded with lightweight, water-proof Fli-Fy micro-routers.
Walkers Crisps
Here's an app (read – stunningly badly edited photo given it's Walkers) that lets you taste crisps through your phone. SCIENCE.
Invisibility Morphsuit
Three years in the making and with NASA scientist support (obviously), The Hollow Man Morphsuit "consists of an engineered material fused with spandex, thousands of micro-LEDs and mirrors, and dozens of small cameras capturing required angles to 'project through' the wearer". (The science behind this isn't actually that ropey – LEDs were used in a similar way in this Mercedes invisible car campaign).
You can 'buy' the suit here.
(Credit to Manifest LDN)
London Wasps' James Haskell
Rugby player James Haskell – topped only ever by Welsh prettyboy Gavin Henson in the 'LOOK AT ME' stakes – has 'had' a tattoo to promote the upcoming match against the mighty Gloucester Rugby (snarky comments on this season's form will result in me finding a way to block your ISP from ever setting digital foot on this site ever again).
Haskell will take any and every opportunity to go shirtless, so I can't imagine he took much convincing to take part in this:
Boost Energy Drinks
The 'energy experts' at Boost have developed a new product that guarantees healthy looking hair and energy that lasts all day – 'ShamBoost'.
According to the release, ShamBoost not only thoroughly washes your hair but also 'allows extra energy to soak into your brain through your hair follicles' – to help boost you throughout the day.
Aside from the incredibly… interesting science behind the shampoo, which we should remember would need to penetrate YOUR SKULL to work, it's not a bad effort.
(Credit to Big Communications)
Hotels.com
Hotels.com is offering 'vertical sleeping pods' across a selection of the 260,000 properties featured on the brand's website.  It's being trialed after a sleep expert found sleeping upright might actually be better for you, whilst it's hoped that the initiative will 'address the global shortage of centrally located hotel rooms'.
(Credit to Frank PR)
Capital One and Plymouth Argyle Football Club
Plymouth's pitch was 'painted' orange by credit card company Capital One, in a bid to help Argyle fans pick out their players – whose playing kit is green.
(Credit to Synergy)
Glassdoor
Salaries on recruitment website Glassdoor are being paid in Bitcoins, according to this company blog
[We] will now show salaries in bitcoins… permanently. As part of our international expansion, connecting bazillions of job seekers to the jobs and companies they love worldwide, we understand that our universe is more connected than ever. We recognize that your first job may have been in London, your second in Malaysia, your third in Finland, your fourth in… well, you get the idea. That's why we think it's important for job seekers to have the ability to research salaries using the leading global currency, Bitcoin.
Let There Be Beer
British brewery collective Let There Be Beer, made up of the biggest breweries in the land and with a view to promoting ailing beer sales, has 'created' April Showers, a beer 'made with the finest rain water':
(Credit to Frank PR)
GoNutrition
Sports nutrition company GoNutrition has 'launched' Protein Shower Gel (product page here). According to the page, the shower gel features every single GoNutrition product 'rolled into one and is packed full of cleanliness, definition and ego'.
Wynsors World of Shoes
Also going down the 'invisible' route, Wynsors has 'created' a range of invisible shoes for men, women and children – and appears to be encouraging people to tweet them their bare feet, the fetishists… More on the 'products' here. If you hate feet, look aw- nope, too late.
Musto
To tie into their recent sponsorship of the Volvo Ocean Race, offshore sailing brand Musto has 'created' the world's first battery powered climate-control suit for the Abu Dhabi Sailing Team – who are used to much warmer temperatures than the slightly less inviting climates they'll be experiencing during the 38,739 nautical mile race.
This is actually one of the more believable stunts I've seen. The balance between 'obviously made up' and the ability to make headlines whilst still fooling journalists and/or the public seems to have been missed on the whole this year, as Chris Owen mused earlier on the Telegraph when questioning why when brands are highlighting their efforts as frauds straight off the bat.
(Credit to Frank PR)
Thanks to Matt Muir, journalist Jamie Madison, Premiership Rugby comms director Paul Morgan, A Social Media Agency's Iona St. Joseph, Frank PR's Doug McPherson, Big Communications' Jasleen Riyait, Glassdoor's PR Joe Wiggins, GoNutrition's Rick Osborn, Frank PR's Dani McCormack and Pitch's Ruth Grimoldby for sending me the above examples.