Top 10 PR and marketing stunts and campaigns of October 2013
By Rich Leigh on Friday, November 1, 2013
If you've ever wondered what the top ten most popular PR and marketing stunts and campaigns throughout October were (and who hasn't?) , WONDER NO LONGER.
Here in reverse order, based on the most popular posts, is the best the PRmediamarketingadvertising world had to offer throughout this month.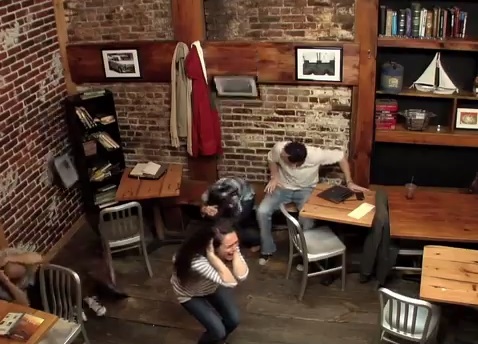 10. Haunted vending machine provides trick AND treat in fun Kellogg's PR stunt – a nice Hallowe'en stunt I've since found out WAS supposed to stay secret for longer than it did, but for a certain fame hungry, machine-dwelling, wannabe-comedian's efforts. Still, didn't turn out badly at all.
9. Coca-Cola banishes grey skylines with its pop-up park – a 'dreary' Lithuanian city square was transformed into a pop up park (in the shape of a Coke bottle) as part of the sugarwater giant's 'Where Will Happiness Strike Next?' campaign. Post by business student Rachel Trawicki
8. Pop-Up 'Dill' Restaurant Exposed as Lidl Stunt – Swedish diners were treated to a nine course, cut-price Michelin-inspired meal in this pop-up restaurant stunt – all eventually 'exposed' as a PR stunt for German budget supermarket chain Lidl, from which all the ingredients were bought. Ciaran McCormick's THIRD post this month. Anybody would think he's sleeping with the boss. (There is no boss).
7. Captain Manchester unmasked in heroic PR campaign – a series of well-intentioned and seemingly selfless deeds made the people of Manchester suspicious. Suspicious enough to believe a media-friendly masked superhero picking up rubbish and leaving cutesy balloons around the city for members of the public was part of a PR campaign. Turns out they were right and it was all to promote a charity, but still, nice while it lasted. Post by The Write Angle's Ryan Owen Gibson
6. Augmented Reality Penguins… – a Japanese aquarium tackled an issue of dwindling visitors by creating an app called Penguin NAVI to encourage people to find the out of the way attraction – essentially, an augmented reality GPS, featuring digital waddling penguins. Brilliant. Post by Hope and Glory PR's Don Ferguson.
5. Jay Z surprises fans by catching the Tube to his concert – It's a celebrity. On public transport. Queue mass hysteria. By jove doing Jay Z's PR would be easy. Post by WPR's Jade Mansell
4. WeBuyAnyCar.com Navigates Twitter Storm After Hoax Letter – in short, somebody responded to their own letter offering up a kid's toy car with a fake reply from WeBuyAnyCar.com – a site that promises to buy any car. Which is odd in itself. However, WBAC has responded brilliantly, launching WeBuyAnyToyCar.com, as well as advertising for a 'junior vehicle purchaser'. A master class in owning your own brand. Second inclusion in the newsletter from Ciaran McCormick.
3. Company responds to employee's 'I quit' video with one of its own – this month, the world marvelled as an employee quit her job through the medium of dance. Well, her company responded with an equally inane video that proceeded to not actually answer any of points but instead gain itself further questionably useful publicity by riding on her coat tails. I wonder if they actually gained or lost any business as a result of all of this? Post by WPR's Jade Mansell
2. Burger King Bravely Changes Name to 'Fries King' to Launch New Product – one of the most popular posts by quite some way this month has been about Burger King's 'rebrand'. Also worth having a look at this stunt involving Wi-Fi-enabling 8 foot fries to promote it. Seriously. Post by student and new contributor Ciaran McCormick, who wins this month's contributor prize (I'll be in touch soon Ciaran!).
1. Coffee shop customers pranked in brilliant Carrie remake 'telekinetic' PR stunt – one of the most popular posts on the site since 'Push to Add Drama', this secret camera stunt certainly got people talking about the upcoming Carrie remake. Weeks before it had been released, though, thousands of IMDB users saw fit to rate the movie a mediocre 6.4/10. Gah, PEOPLE.
If you would like to get involved as a contributor, it's easy to do so and we'd be glad to have you: sign up to become a writer for PRexamples.com here. (If you're waiting for me to get back to you, I probably have your email, I just work slowly as I have a few balls in the air, so apologies!)