Ad agency spoof 'Exfearential' parodies creative industry reliance upon scare tactic campaigns
By Rich Leigh on Saturday, November 16, 2013
Toronto-based creative agency john st. – responsible for last year's BUYRAL and 2011's Catvertising spoof ads – is back, with another dig at the creative industry – Exfearential.
'Most ads are dramatic', creative director Chris Hirsch explains, 'we want them to be traumatic':
The seemingly-serious parody self-promotional video (just take a look at the YouTube comments, not that they should perhaps be used as a metric to determine overall public intelligence) takes satirical potshots at well-known campaigns, including LG's end of the world 'prank', the recent apparently actor-laden telepathic stunt for the Carrie remake, Pepsi's Nascar driver test drive and a number of others.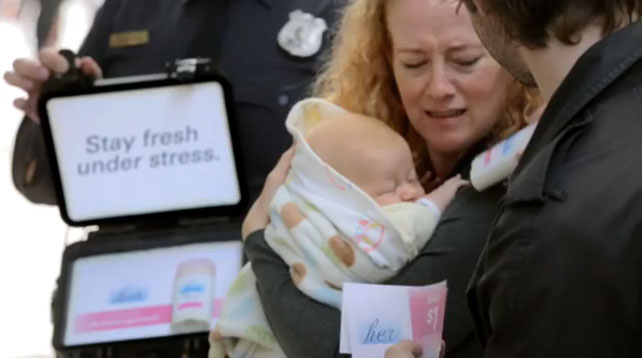 The fake campaigns in Exfearential include a woman's baby being stolen – a parody of a Nivea's deodorant stunt where members of the public were pranked into believing they were wanted suspects – and a home invasion that is reminiscent of Carlsberg's friendship test.
In fact, writing this, I realise just how well john st. has realised and distilled the trend of using scare tactics in campaigns – where, a few years ago with flash mobs and singing and bloody dancing it was all about trying to create feel-good content to get the masses clicking, sharing and buying. We're all sheep, aren't we really, creators and consumers?
WPP-owned john st. has just been named Canadian ad agency of the year – for completeness, here are the agency's 2012 and 2011 ads:
2012 – Buyral – the tool that guarantees you'll go viral
2011: Catvertising – an 'unbelievably effective new business tool'
Source: Web Curios
Read more: Vice