Live tweet wall set up outside White Hart Lane for fans to wish Bale the best
By Rich Leigh on Monday, September 2, 2013
Piggybacking on Real Madrid's world record signing of Gareth Bale, crispy chaps Golden Wonder have set a live message board up at White Hart Lane, the home ground of Bale's former club Tottenham Hotspur. Golden Wonder asked Twitter users to tweet them using #goodluckgareth and a message to Bale himself on what is transfer deadline day, stating they'd received more than 400 good luck messages.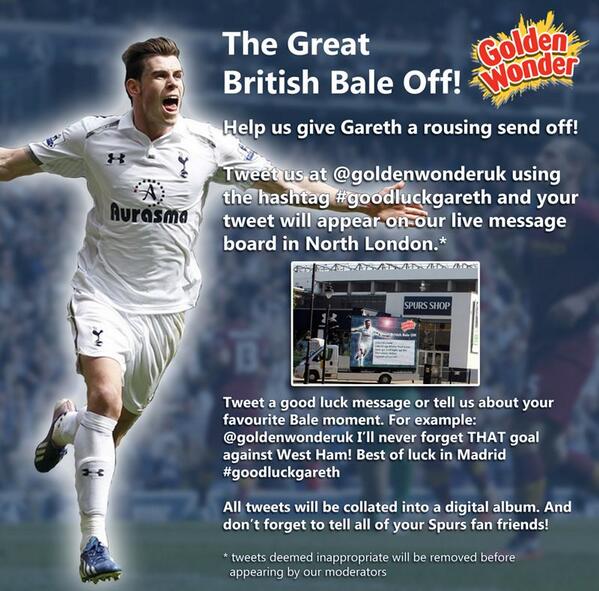 The Golden Wonder social media team are tweeting users with a photo of the moment their tweet adorned the screen, which is a nice way to get people sharing content. The idea is a much friendlier version of Paddy Power's dig at Chelsea's Fernando Torres from earlier in the year – something Golden Wonder's PR agency say is purposeful.
Spurs fan Paul Sutton of Bottle PR emailed to say the idea taps into the interests of Golden Wonder's core customers. He also said:
'The insight that led to the idea was that normally, football fans are upset and resentful when their star player leaves. There's usually a bitter feeling around it, but in the case of Gareth Bale, the majority of Spurs fans feel genuinely thankful for what he's done for the club over the last few years and want him to be a huge success at Real Madrid. They understand he has the opportunity of a lifetime.
'So, rather than doing something to mock Tottenham, Bale or the fans, we wanted to do something for the fans and for Bale himself, so we came up with the idea of a tweet wall outside White Hart Lane which displayed a running stream of good wishes from Spurs fans to Gareth Bale.'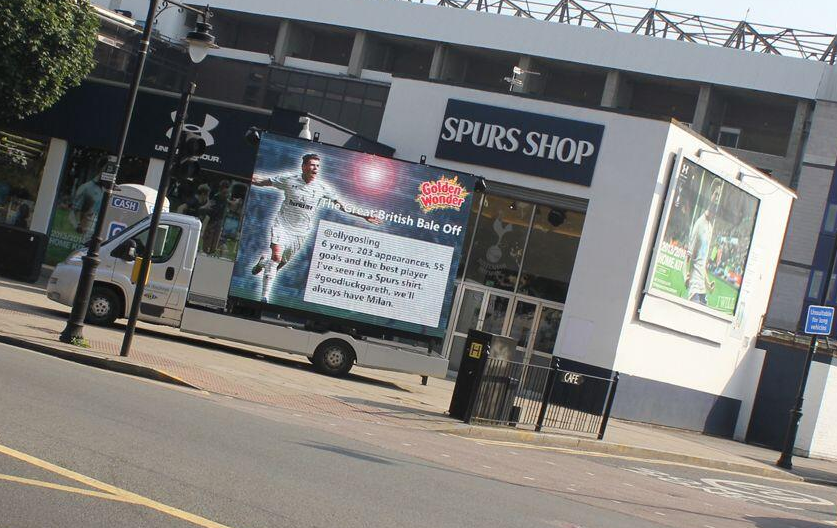 Involved agency: Bottle PR