Heineken's Departure Roulette: travellers asked to drop travel plans in favour of unknown destinations
By Rich Leigh on Monday, July 15, 2013
Heineken unveiled a departure board at JFK's Terminal 8 last week, daring travelers to play 'Departure Roulette'. The game is simple – press the button on the board and you'll be given the opportunity to drop your existing travel plans in favour of the next first class flight to one of ten locations, including Portugal, Switzerland or Peru. The catch is, you don't know where you'll be going before you've already committed.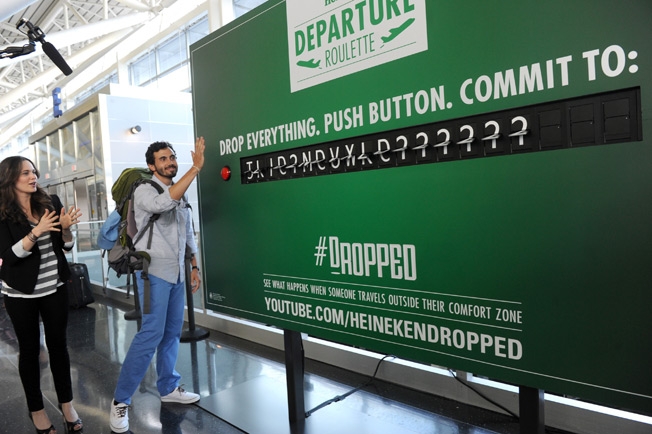 According to this on the New York Times, a man played the game and ended up going to Cyprus instead of Vienna, having planned a six-week visit to his grandparents. Heineken gave him $2,000 to cover expenses and booked him into a hotel for two nights.
The game is inspired by (and clearly to promote) Dropped, a new Heineken campaign in which four men are sent to remote destinations and film their adventures, which will all be published on the campaign's dedicated YouTube channel.
Here's a Fox News report about Departure Roulette:
http://www.youtube.com/watch?v=hvet6a6kpMA
Involved agency: Wieden + Kennedy