Greenpeace Scale The Shard
By Staff on Thursday, July 11, 2013
Audacious. Bold. Brilliant. Risky. Irresponsible. However you want to describe it, surely Greenpeace's #iceclimb protest at The Shard in London yesterday is in the running for Stunt of the Year?
Make no mistake, this was a thoroughly well planned, brilliantly executed mission.
From the hashtag, to the slogan — 1 skyscraper. 6 women. No permission. What would you do to save the Arctic? – to the military like precision the Greenpeace team brought to the climb itself.
Any climb demands careful planning. But scaling the outside of a Western Europe's highest skyscraper… in central London… that's never been climbed before…?
It isn't just about working out a route and checking the weather report, they also had to consider evading the police and the building's own considerable security measures.
But perhaps we shouldn't be too surprised by the sheer ambition of the project – designed to highlight Shell's plans to drill for oil in the Arctic.
Since Greenpeace were founded in 1970 they have built up decades of experience with a series of spectacular confrontations with authority. I grew up watching coverage of their Rainbow Warrior ships disrupting whaling and the dumping of toxic and radioactive waste.
Daredevil "eco-terrorists", as they were dubbed, grabbed headlines armed with little more than speedboats and heck of a lot of nerve.
However, what Greenpeace showed yesterday at the Shard was how the impact of a stunt like this can be magnified and powered through social media. Direct action 2.0.
Taking a leaf from Red Bull's playbook – and their spectacular Felix Baumgartner freefall last year – the climb was broadcast live via the internet from cameras mounted on the climbers' helmets.
On Twitter, #iceclimb trended globally. The climbers were not anonymous black smudges hundreds of metres up: they were Victo, Ali, Sabine, Sandra, Liesbeth & Wiola. A website showed them grinning and excited before their adventure, charted their progress, explained the purpose of their demonstration and invited people to sign the petition.
I said demonstration: yet it was one without placards, a march or chanting. #iceclimb broke all the rules as far as that was concerned and yet it triumphed, grabbing the media's attention as well as the public's.
The climbers were taken into police custody at the end of their 310 metre climb yesterday. But by then they had placed their cause firmly in the collective consciousness.
It captured attention and delivered the message.
Naturally the story trended globally on Twitter and dominated media coverage on the day.
Here's how events unfolded yesterday, scroll down to the bottom and then read up….
20:00 UPDATE
Mission accomplished.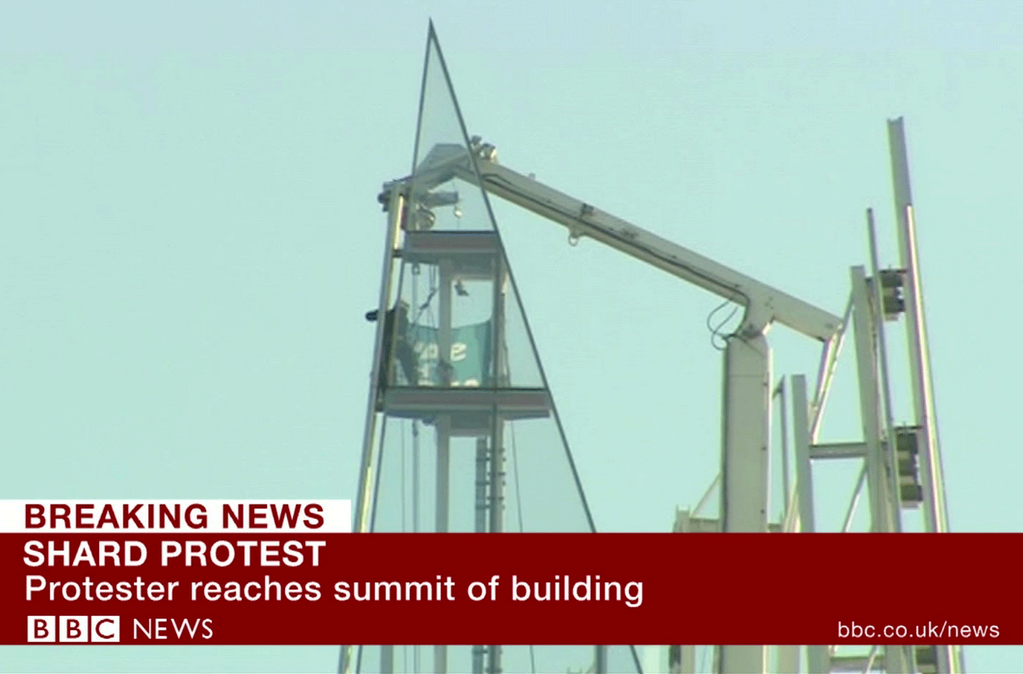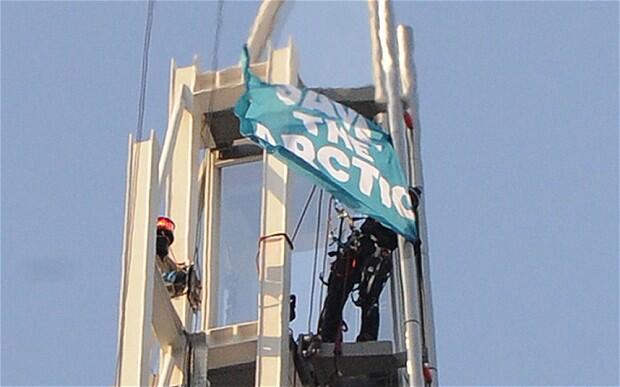 [PA]
18:40 Update
@AliGarrigan nearing the top of the Shard – kitted out with video streaming helmet-cam.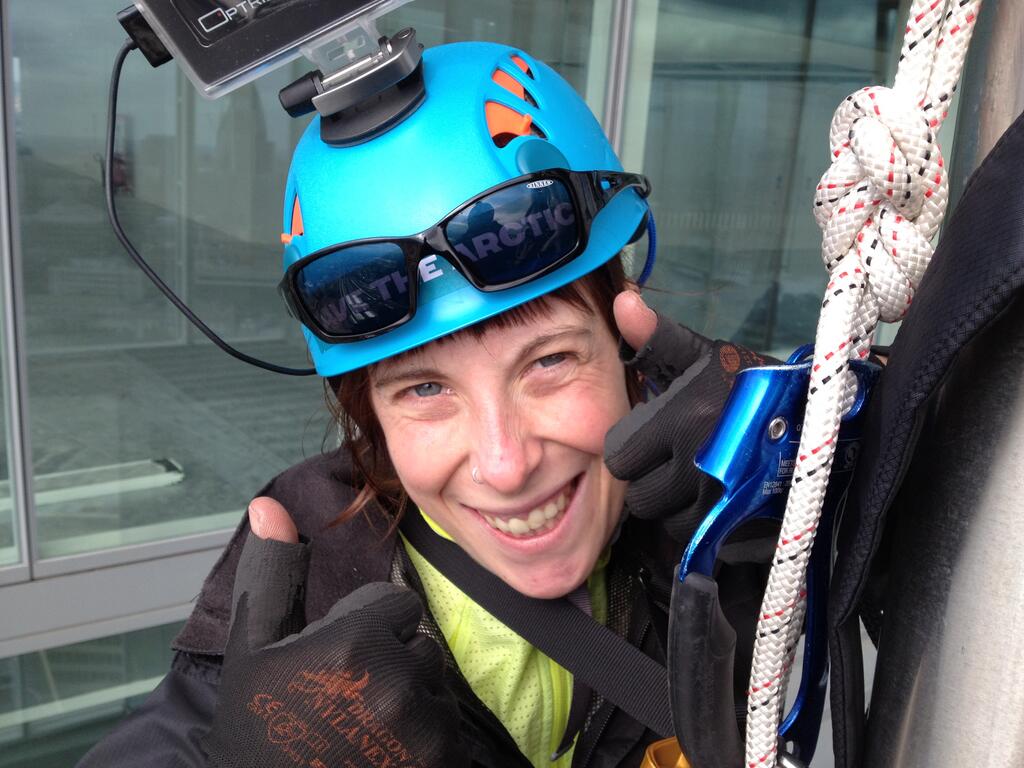 18:00 Update
It may take 30 minutes. It may take 2 hours. There's a large chance they'll have to come down without reaching it. #iceclimb

— Greenpeace UK (@GreenpeaceUK) July 11, 2013
16:13 UPDATE
Taking protest to new heights.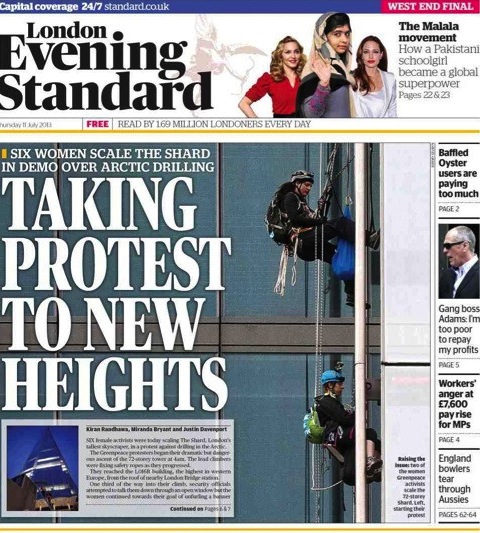 14:50 UPDATE
Protesters scaling the Shard for @GreenpeaceUK #iceclimb have reached 180m – with around 120m to go. Watch live here: http://t.co/ECaPgneNkz

— Channel 4 News (@Channel4News) July 11, 2013
13:15 UPDATE
Still going strong after 4 pitches. Nerves in check and no rope tangles :) 3 pitches to go #iceclimb

— Ali Garrigan (@AliGarrigan) July 11, 2013
11.15am UPDATE
Holders of pre-bought Shard gallery tickets will get a ringside seat.
Shard viewing gallery open as usual for those with advance tickets but they're not selling on the day tickets today #iceclimb

— London SE1 (@se1) July 11, 2013
10:50 UPDATE
Metro reports Metropolitan police officers and those from the British Transport police are on the scene and continuing to monitor the situation.
Deputy Prime Minister Nick Clegg has spoken out against the stunt. On his weekly phone-in show "Call Clegg" on the London radio station LBC 97.3, he said : "It looks extraordinary on the telly, but I don't actually support them. It is going to tie up a lot of police time. It is obviously quite dangerous and I really do think they could get their point across to the companies which I think they are seeking to address in a different way."
Greenpeace Statement: 'Shell is leading the oil companies' drive into the Arctic, investing billions in its Alaskan and Russian drilling programmes. A worldwide movement of millions has sprung up to stop them, but Shell is refusing to abandon its plans.'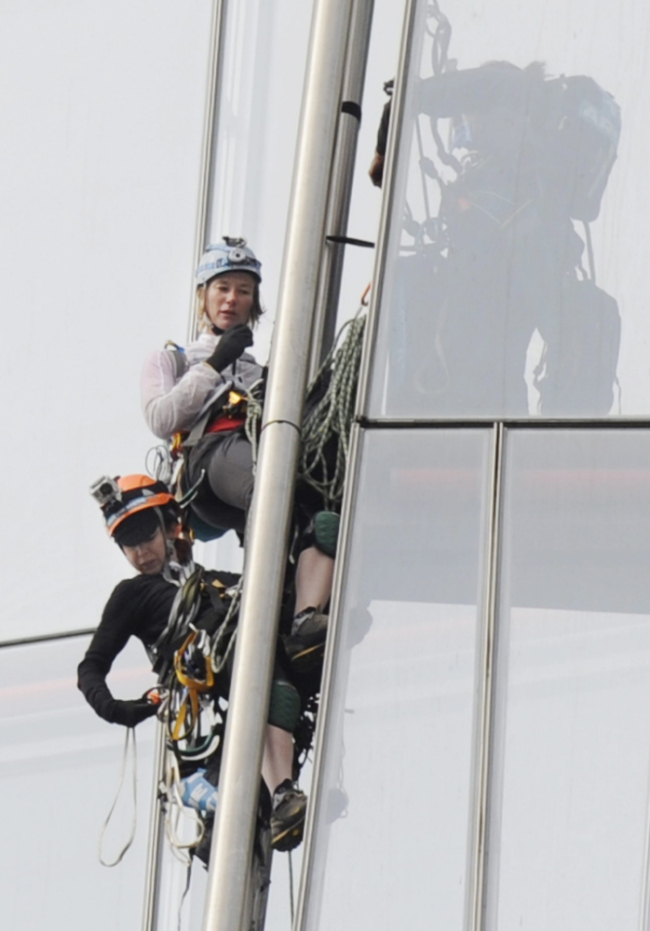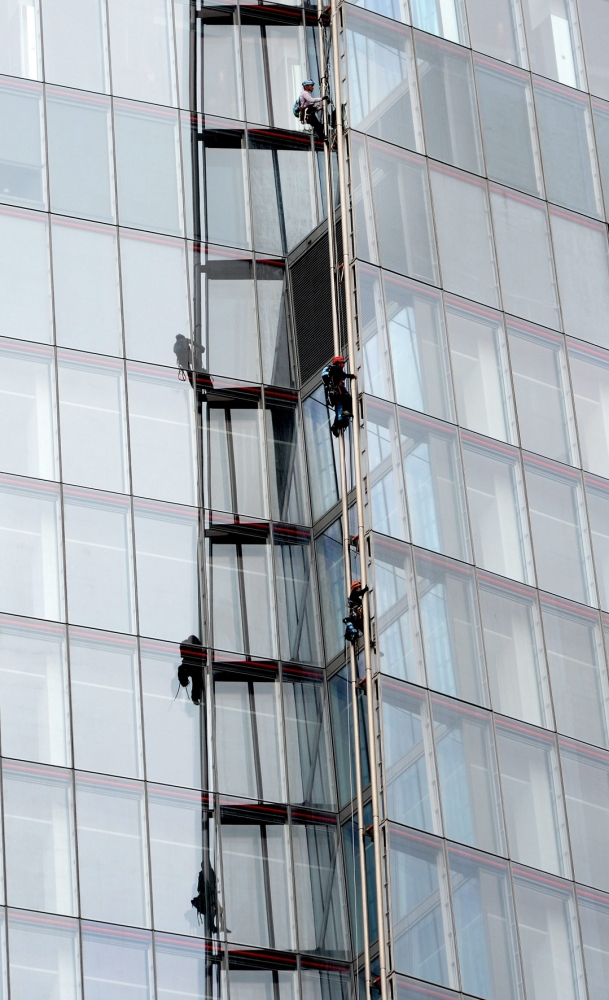 [picture credit Metro/EPA]
09:50 UPDATE
The Mirror reports that protestors are "free-climbing" (scaling the building without assistance) but fixing safety ropes as they progress.
Greenpeace have named the climbers as Sabine, Sandra, Victo, Ali, Wiola and Liesbeth. They are from the UK, Canada, Sweden, Poland, Holland and Belgium.
Climber Ali Garrigan tweets from 100m up
Cold and windy 100m up but smiles and snacks all round

— Ali Garrigan (@AliGarrigan) July 11, 2013
09:30 UPDATE
One climber, Victoria Henry, 32, a Canadian living in Hackney, London, said this morning: We'll try to hang a huge art installation 310m up that will make Shell think twice before sending their rigs into the Arctic.' [via ITV]
Sabine & @victohenry clinging on as they attempt #iceclimb << pls keep your support coming. pic.twitter.com/m9R1asDKD1

— Greenpeace UK (@GreenpeaceUK) July 11, 2013
The shard. Two dots are woman climbing for Greenpeace. (Ambulances, police & press here) pic.twitter.com/zhDB9XcqDO

— Sam Missingham (@samatlounge) July 11, 2013
London bridge commuters seem hypnotised by #iceclimb pic.twitter.com/CTk4Gfe2UU

— leila (@le1laD) July 11, 2013
09:20 UPDATE
Greenpeace say that they have targeted Britain's tallest building, because it sits in the middle of Shell's three London headquarters.
"They don't want us talking about their plan to drill in the Arctic. We're here to shout about it from the rooftops."
Shell's 3 London HQs are around the Shard. We're here to tell them to stay out of the Arctic. #iceclimb

— Greenpeace UK (@GreenpeaceUK) July 11, 2013
09:10 UPDATE
The Met Police said the group accessed the building in central London by climbing on to the roof of nearby London Bridge Station. 'Officers were called to the scene at 04:25 a.m' [Source BBC]
Greenpeace have published a blog by one of the climbers @victohenry
Months of training and secrecy end here. I'm scared but incredibly excited about today #iceclimb

— Victoria Henry (@victohenry) July 11, 2013
09:00 UPDATE
Six female protestors from Greenpeace are attempting to scale London's The Shard, western Europe's tallest building – to protest Arctic drilling.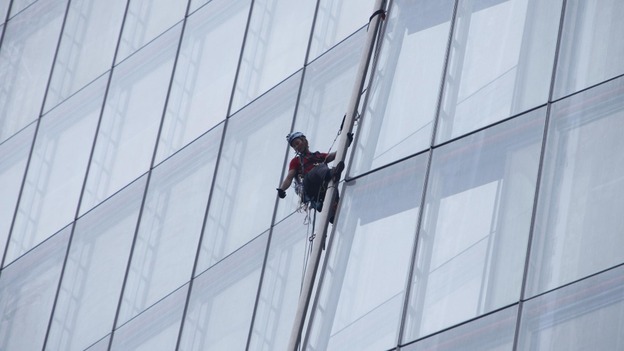 [Credit: David Sandison/Greenpeace/PA Wire]
The stunt is being LIVE broadcast over the internet from a dedicated microsite.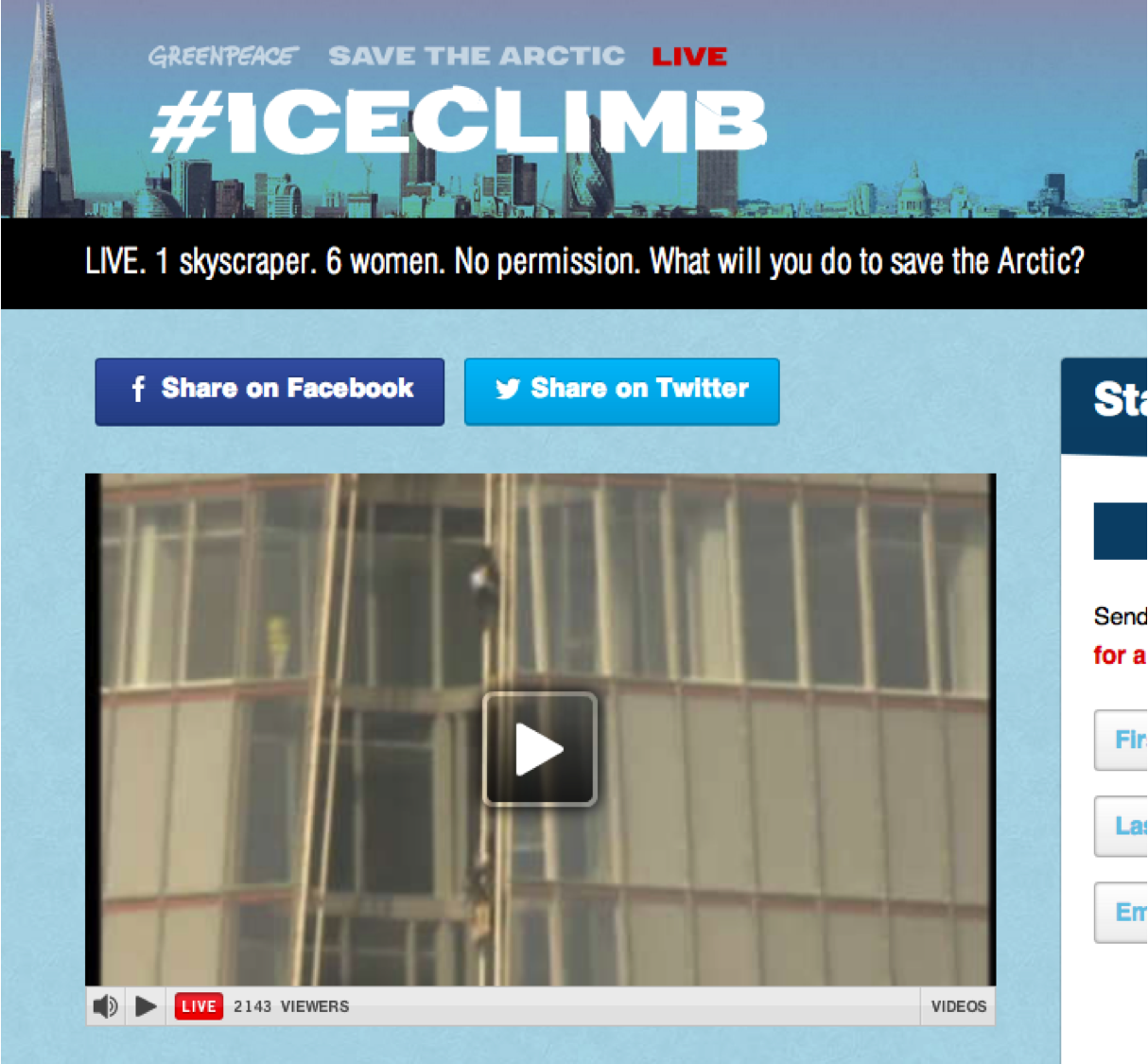 Earlier this morning Greenpeace tweeted photographs of campaigners in fluorescent jackets accessing The Shard on a ladder.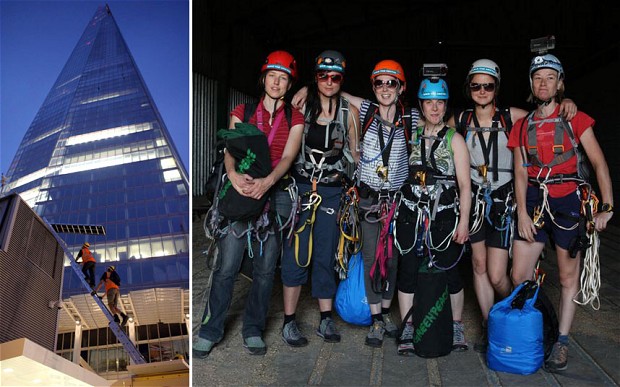 Credit: GreenpeaceUK
News: The Shard's being used by protestors. Our key focus is on safety of all at our building & we're working with relevant authorities.

— TheShardLondon (@TheShardLondon) July 11, 2013