Stunt roundup: How the world of PR reacted to Sir Alex Ferguson's retirement
By Rich Leigh on Thursday, May 9, 2013
Since announcing his retirement after 26 years at the helm of the most successful British football club in recent history, UK-based PR people have scrabbled to get clients to sign off ideas piggybacking on Sir Alex Ferguson's news. Let's face it, when a big story like this comes along, for a short period of time, you're going to struggle to get coverage in the nationals and have content shared if it doesn't relate.
Bottle PR's Paul Sutton put together a great roundup looking at examples here this morning, but since, there have been a couple of notable additions and I thought readers might appreciate them all in one place.
In no particular order, here are all the examples I've seen and a link in some of them to more information should you want to read more. Feel free to tweet me @GoodandBadPR if you think I've missed any.
1. Paddy Power unveiled the below close-to-the-bone ad on the the largest full motion digital screen in Europe, located opposite Liverpool's Lime Street station in Liverpool, insinuating that it's a very good year to be a Scouser, what with Margaret Thatcher's death and Ferguson's retirement. Very few brands can do what the bookie does as well as it does it, and in true Paddy Power fashion, they've said they'll be showing the ad at other stations, including Manchester. As close to marketing Marmite as you can get.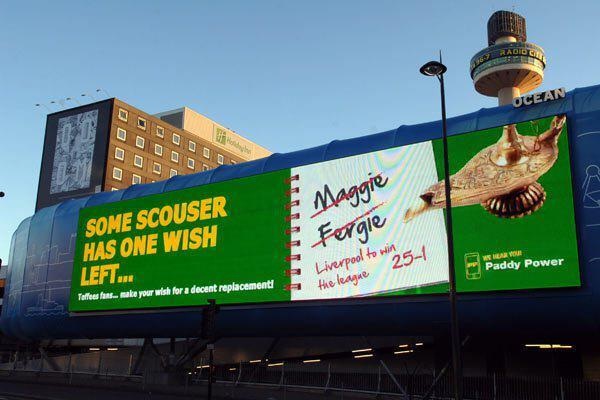 2. Nando's was very quick off the mark (thanks no doubt to in-house 'PR bloke' Alastair Flower) announcing that its Manchester restaurants would be opening 5 minutes later on the day of the announcement to honour 'Fergie time', a belief that referees are so intimidated by the Scot that they'd allow Manchester United extra time in games they were losing. (This was actually validated by this Opta study using 2010-12 data). The stunt appears to be widely seen as one of the first, which may well show the benefit of in-house creativity. This was also written up by our very own contributor Jade Mansell here.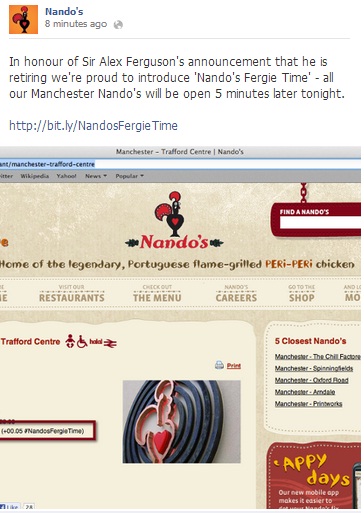 3. Premier Inn (through agency Frank PR) tweeted the below to state that guests staying in a Premier Inn in Manchester could request a 'Fergie time' checkout this Sunday, giving them 26 extra minutes in the room – one minute for every year he managed the club:

4. Golden Wonder was perhaps the quickest off the mark, publishing a special edition 'Golden Handshake' packet design inside half an hour of the announcement, poking fun at Fergie's pensioner status by offering a free bus pass in every pack. Paul Sutton and Bottle PR (mentioned above) were actually behind the design.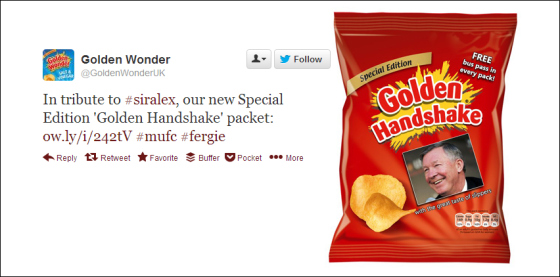 5. Kit Kat posted the below image on their Facebook page, paying tribute to the 'hairdryer' treatment Ferguson was famous for giving players when they needed a good (usually verbal) kick up the backside. In short, the hairdryer treatment involved the Scot getting as close as possible to the victim and shouting in a way that caused their hair to blow backwards.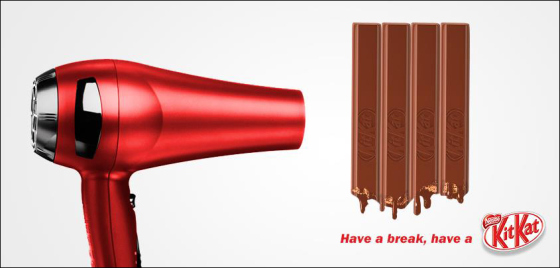 6. Hiring Bounty posted this job ad up in a bid to have people put forward the next Manchester United manager, highlighting the site's unique way of finding job candidates.
7. Hiring Bounty (version 2) took advantage of the fact Everton manager David Moyes was accidentally and prematurely named as Sir Alex Ferguson's replacement on Manchester United's Facebook page by posting an ad to find the club a new Facebook community manager. The simple yet funny ad can be seen here.
8. The Sun published a fantastic front page this morning in response to the announcement, again highlighting Fergie's 'hairdryer' treatment. Say what you like about The Sun, it certainly knows good shareable content. Not quite PR, but given it was billed as a souvenir edition, a great way to sell a few extra copies.
9. Football Manager is a football manager simulation game. To promote the new installment in an incredibly relevant way, season-long simulations were ran to see how in-the-frame managers might fare in their first season in charge. It turns out David Moyes, the eventual successor, is (according to the simulation) to win both the League Cup and the Premier League, whereas Jose Mourinho ended the season in third place. I really like this effort, Read more here on the Mail.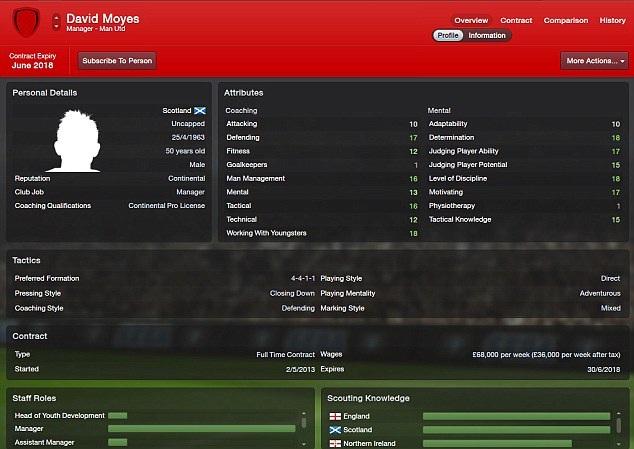 10. Currys (the electrical retailer) also played on the hairdryer treatment, offering customers 20% off all hairdryers until midnight tonight in honour of the man. A nice tie-in, but, perhaps in a bid to be quick, HORRENDOUS photoshopping on the promotional image.
11. Topps Collectibles (the company behind Match Attax cards and football sticker albums), through agency McCann, pulled together a montage of Sir Alex's cards and stickers from his time at Manchester United. Here's the image on Topps' Facebook page.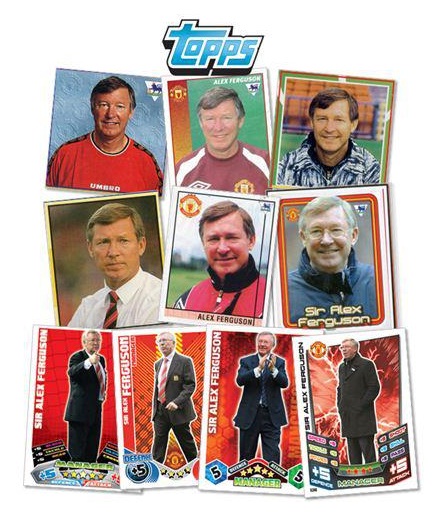 12. Nokia engraved this Lumia 920 and offered it to Sir Alex to commemorate his time at Manchester United.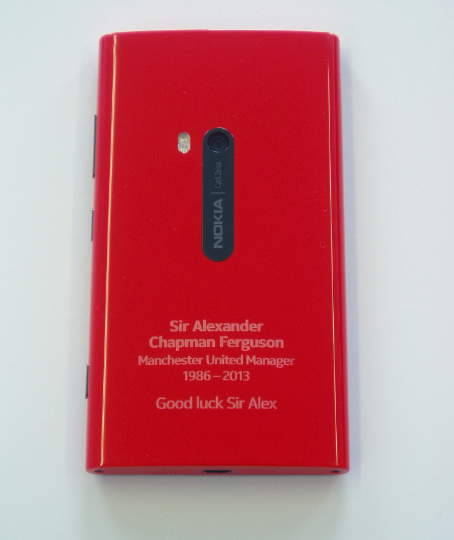 The company (pointing out that when Ferguson took office they were still making rubber tyres!) also created the below phone, offering members of the public the chance to win by retweeting this tweet from @Nokia_UK. One winner will be picked at random: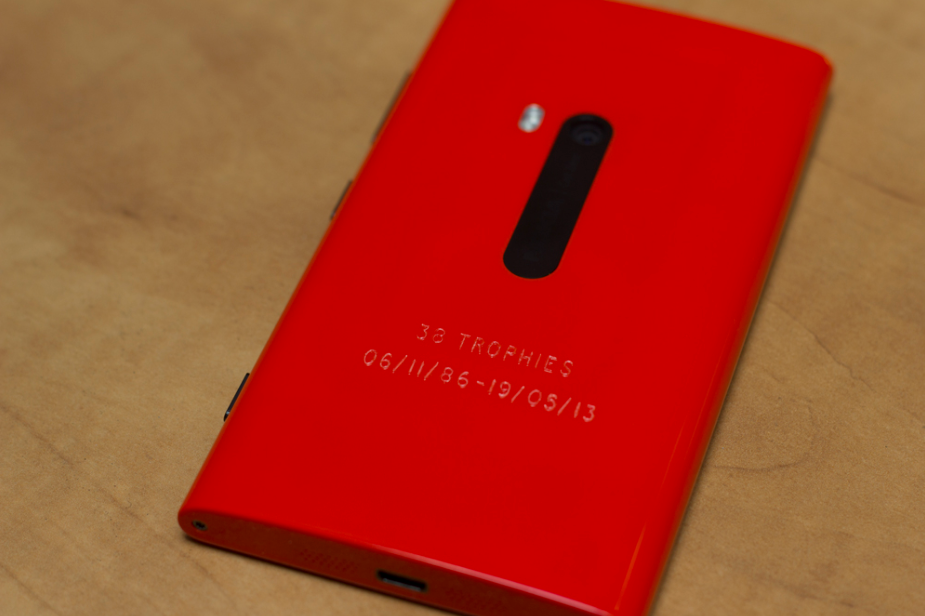 Read more here on Nokia's blog. Thanks to Ogilby's James Whatley for commenting with this below.
As I mentioned, if I've missed any, tweet me or comment below!