'Sugar daddy' dating site offers US cities millions of dollars to change names to site URL
By Rich Leigh on Tuesday, March 19, 2013
SugarDaddie.com, launched in 2002 (seemingly with the same design it has now) is a dating website that links rich older men with younger women. It's celebrating a decade of "intergenerational matchmaking" by offering US cities millions of dollars to rename themselves 'SugarDaddie.com'.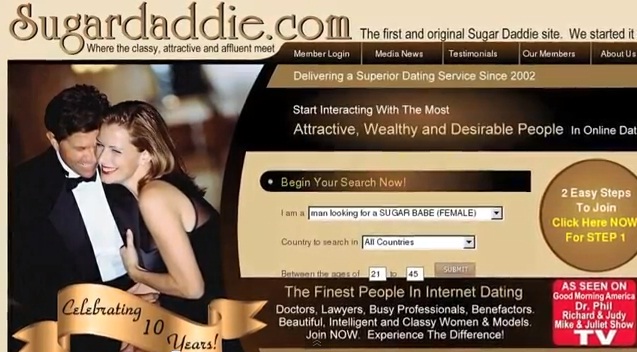 Despite the horrendous and unforgivable misspelling of the word daddy in the company's name, this is a win-win stunt that's done incredibly well in the States. Similarly to Cougar Dating's PR stunt offering to pay Caroline Flack £500,000 to be the face of its site after her brief relationship with One Direction's Harry Styles, the third party is incredibly unlikely to say yes, but either way, the site benefits from an incredible amount of coverage, with links from some of the most authoritative media domains out there, SEO-wise.
Darren Shuster, founder of Pop Culture PR, the agency behind the series of non-starter stunts, tweeted me with the campaign earlier today and a brief Google search shows that he's seemingly using this campaign as much to promote himself and his agency as he is promoting the client – a particularly odd way around PR.
The Berkshire, UK-based company, through Shuster, has contacted officials at four cities to date (it's likely to keep going til the media get bored of covering it or somebody says yes), including:
Sugar Land, Texas ($4.65m);
Salt Lake City, Utah ($1.35m);
Woodside, California ($11.65m) and
Sugar Hill, Georgia ($3.75m)
Here's a news piece about the offer to Woodside, CA:
The most recent offer to Sugar Hill, GA, made March 17, would give the city $3.75 million in return for meeting following conditions:
A 10-year commitment to officially change the name of Sugar Hill, Ga. to SugarDaddie.com, U.S.A.

All official government correspondence, institutions and street signs must be changed to reflect the new name of SugarDaddie.com, U.S.A. This includes renaming the Sugar Hill Golf Course to SugarDaddie Greens.

Replace the current city logo

The CEO of SugarDaddie.com must receive a key to the city in a formal ceremony presented by local government officials (open to the media and the public). The company also proposes building a Hugh Hefner statue near the new City Hall, or another public figure that best represents the sugar daddy lifestyle.

Replace the name of E.E. Robinson Park with SugarDaddie.com Park.

SugarDaddie City Hall will replace Sugar Hill City Hall for 10 years.

To rename Gary Pirkle Park for a period of 5 years, along with the post office and local street signage upon entering or exiting the city.

All city marketing resources must be made to reflect the city's official new name and must be fully implemented within six months.
The CEO of SugarDaddie.com, Stephen Pesternak, seems an especially interesting guy, also owning a dating site called 7orbetter.com, a site (honestly) for women to find men endowed with more than 7 inches.
From the site:
Let's face it, you want to know that you are not wasting your time and effort with someone, only to find later on that they are not up to your standards physically in the bedroom. Take the guesswork out of the equation. Know upfront what you are getting so you don't have to worry about it later. Then you can concentrate on other qualities in a man without having to wonder if he has what it takes to make you happy. Meet quality single men and quality single women through our innovative well endowed dating site.
Involved agency: Pop Culture PR