Pelican sexes up show with ice sculpture
By Donna White on Friday, March 22, 2013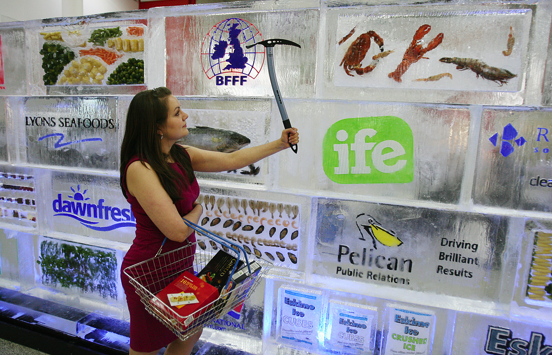 Excuse me for being surprised. I've worked in the foodservice industry for a few years now and don't think I've seen such a simple, yet effective, PR stunt that grabs attention and even makes waves in the marketing press. Well, The Drum anyway.
Pelican PR produced a seven-foot ice wall to represent seven years of frozen food growth for its client – the British Frozen Food Federation (BFFF).
Situated at the International Food and Drink Exhibition, which took place at the ExCeL centre this week, the wall included images of frozen foods to represent new stats showing 5.4% year-on-year growth for the sector.
My only fault with this stunt is that it's saturated with branding, which detracts from the primary key message: frozen food is on the up.
A good stunt is a subtle stunt: the client takes a back seat, tells its story and gets the quality coverage. Agreed?