Get ready to troll-LOL… HTC and LG gate crash Samsung's party.
By Inderdeep Gill on Monday, March 18, 2013
Last week was Samsung's big week, they announced their product of the year – the S4.
But as people queued in the cold to get in to the conference, HTC sent out a team to hand out hot chocolate to all the journo's freezing their bums off – very cheeky! (sorry!)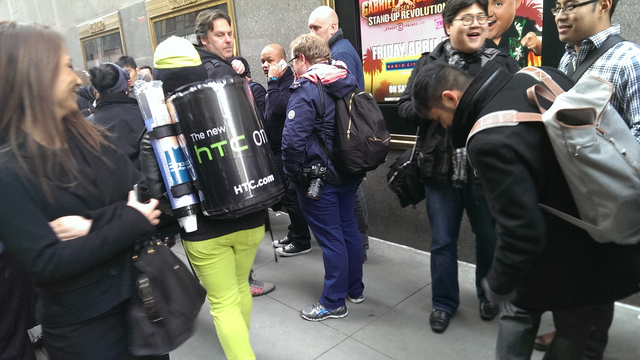 Well… great minds think alike as LG bought as much media space in Times Square – where Samsung was broadcasting the event live. LG used this space to conflict the billboards Samsung had up.
LG used the square digital banner directly above one of Samsung's spots (inset above left), and is copying it by advertising its Optimus G and telling potential new phone buyers that LG's quad-core mobile is "here 4 you now."
A bit of karma for Samsung, since they did try this lame stunt.