English village names changed in Two and a Half Men stunt
By Rich Leigh on Monday, February 27, 2012
To celebrate the new series of Two and a Half Men, now fronted by Ashton Kutcher, Comedy Central has changed the name of English villages that include the word 'Ashton' to include the surname of the star.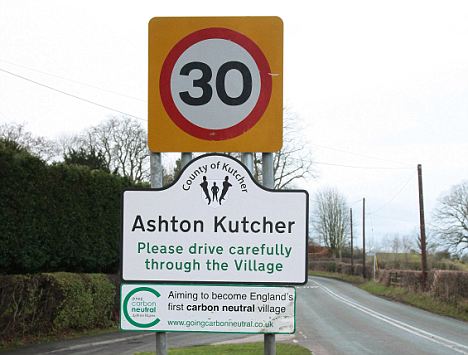 Ashton Hayes in Cheshire, Ashton under Hill in Worcestershire, Ashton in Northamptonshire and Ashton Keynes in Wiltshire had their names 'taken over' for two days this week.
As well as the road signs, flowers beds spelled out the star's name, statues of Kutcher were placed in the local village shop and at the bar of The Golden Lion in Ashton Hayes and local
pubs were re-named the 'Ashton Kutcher Arms', serving 3.9% Ashton Kutcher Ale.
Bill Griffin, from Comedy Central said: 'It seems the UK has been gripped by a kind of mania for Ashton Kutcher. The stunt was genuinely meant in good humour and if any of the locals were amused, bemused or in any way inconvenienced I'll stand them a drink at the Ashton Kutcher Arms'.
Here's a video of the village transformations:
Sources: The Mail Online, spotted first on the ever-beady-eyed stuntoftheday.tumblr.com