'Growin Atkinson' sculpture erected to raise awareness of endangered bees
By Shadia Muse on Monday, June 27, 2022
To promote Rowan Atkinson-fronted Netflix series Man vs Bee, the British Bee Charity has teamed up with Netflix to create a series of life-sized 'Growin Atkinson' sculptures. These sculptures are filled with pollen and nectar-rich wildflowers.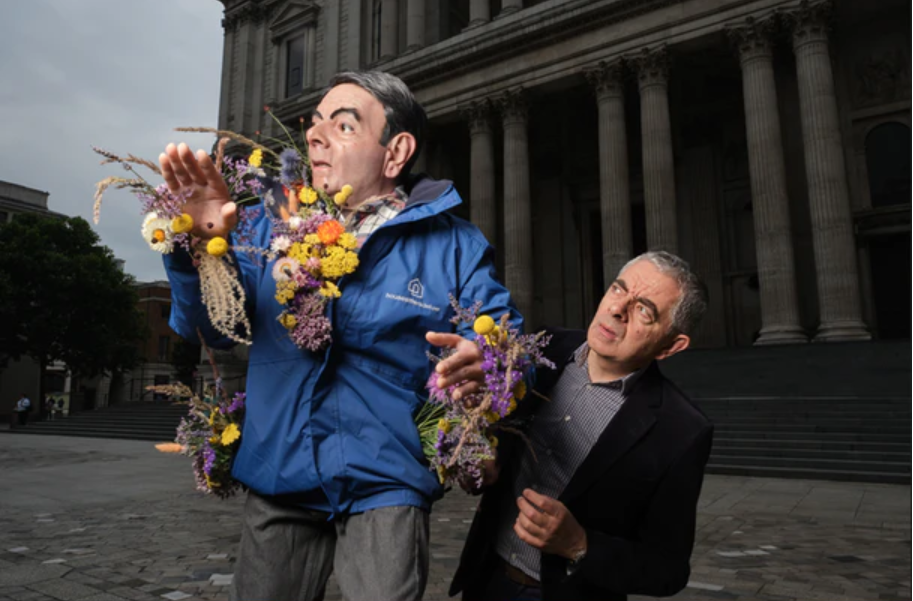 Research commissioned by Netflix and the charity showed that more than a third (35%) of Brits saw a massive decline in the bee population around them this summer. Experts believe that as many as seventeen species are extinct with many on the same path to extinction.
Two thirds (66%) of people in the UK are worried now more than ever about the decline of the bee, however only seven in 10 of people can only identify the bumble bee or the honeybee when there are more than 250 species. Three in ten people also do not know why bees are important to the environment and half (50%) of the population do not know what biodiversity is.
The British Bee Charity, alongside Netflix are encouraging people to take positive action this summer by planting as many as 4000 additional square meters of wildflowers across the capital through the giving-away of wildflower seeds.
Rowan Atkinson says: "My alter ego, Trevor, may go to battle with a bee, but personally I'm pleased to have these eccentric statues help raise awareness of the plight of native British bees in this country. Packed with pollen, nectar and flowering plants to help raise a smile, make people consider the environment and create something of a bee buffet in an effort to help them survive the summer."
Greg Bool from The British Bee Charity says, "For the most part, people know that honey comes from bees, but few realise there are over 250 species of bumble bees and solitary bees in the UK. With so many people now aware that "bees need help" there's been an upsurge in the number of honeybee hives in the UK when perhaps we should be educating people on providing more pollen-rich flowers and plants for hungry bees and pollinators.
"This is why we have partnered with Netflix to create a series of bee-friendly edible flower planters in British national treasure Rowan Atkinson's likeness – to mark the launch of Man vs Bee, whilst raising awareness of how to support the plight of native species of British bees and pollinators at the same time."
Each 'Growin Atkinson' pollen-packed sculpture is on display from today at St Paul's Cathedral, before being donated to The British Bee Charity to find new homes for where they will offer a sustainable food source for bees all year round.