Chiacago store raise over $140k to help Ukraine through custom LEGO Zelenskyy and Molotov cocktail action figures
By Nathan Rosenthal on Friday, March 18, 2022
In light of the ongoing war crisis, a LEGO customisation store located in Chicago, Citizen Brick, has delved into the market and created limited-edition replicas of Ukrainian present Volodymyr Zelenskyy and Molotov Cocktails.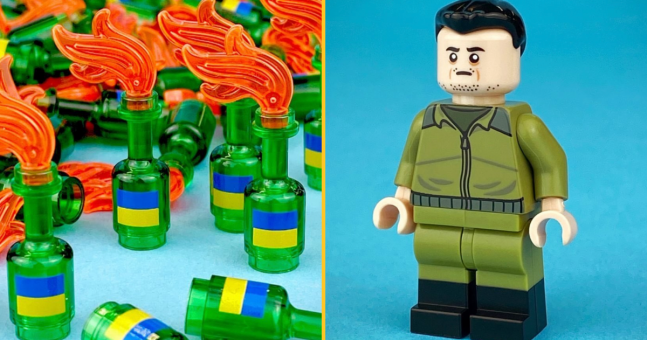 This is in support of the Ukrainian lives that have been turned on their heads due to the Russian conflict, with 100% of the proceeds going to Direct Relief, a leading charity for assisting the people of Ukraine. To magnify the efforts in Ukraine, Direct Relief  is working with the Ministry of Health to offer medical aid on the ground supplying "emergency response packs intended for first responders, oxygen concentrators, critical care medicines, and much more".
The mini Molotov Cocktails are set at $10 apiece and the models of Present Zelensky, $100. The total raised from these figurines has reached $145,388. This is after two releases of the figures. Although there is demand for more, Citizen Brick has taken to social media to announce this figure alongside the inability to make more of the figurines "Due to the limited supply of necessary parts".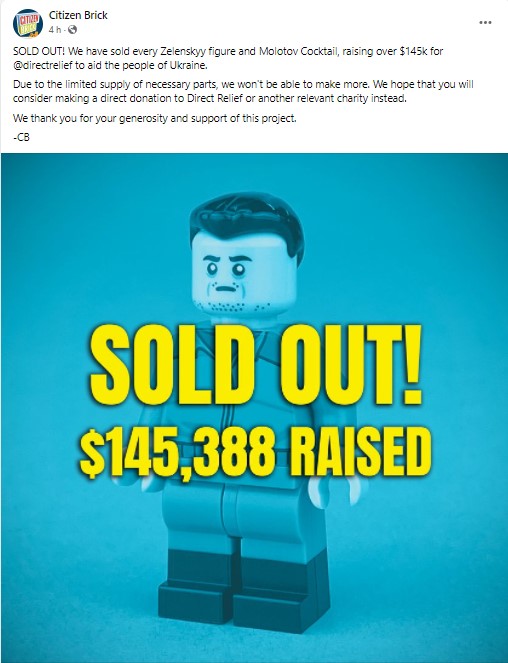 Although LEGO has no direct association or involvement with this campaign, the company, alongside Ole Kirk's foundation has further backed the emergency relief towards Ukraine. Donating DKK 110 million ($16.2 million) to numerous other charities and partners aiding Ukraine in this difficult time.