BTS army flood Twitter after Mcdonalds and Korean boyband collaborate on new menu
By Joe Colquhoun on Monday, April 26, 2021
Last week Mcdonald's announced their new partnership with BTS by creating the brand's first-ever limited-edition BTS meal. Set to arrive in May and coinciding with the band's tour – this exciting one-of-a-kind menu will be available in over 50 markets across the world.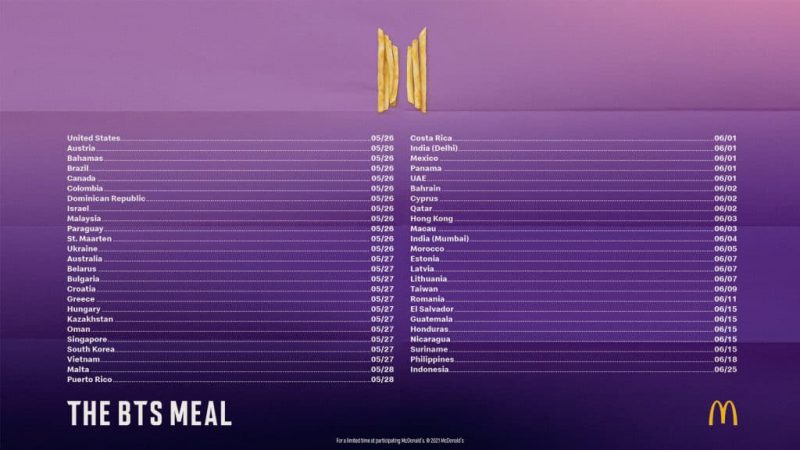 The real excitement began though, when BTS fans (a creative bunch) got their hands on the good news.
Hundreds of hilarious ideas were posted to Twitter, full of made-up potential products and even additional collaborations.
Whilst one fan imagined what the merch might look like;
🍟 BTS x McDonald's 🍟

Exclusive Merchandise

[fanmade] pic.twitter.com/yRJWwSHFHc

— 𝓑🧈 (@jhwmin) April 19, 2021
Another knocked out an entire campaign;
The BTS's Meal 🍟#McDonaldsXBTS #McDonalds #gvfxarmy_edit pic.twitter.com/L1DLNM14kg

— R3M4N⁷ ᴮᴱ (@meraki_r3m4n) April 20, 2021
Additionally, based on the boybands recent partnership with Louis Vuitton, it was only a matter of time;
THE LOUSI VUITTON MCDONALDS BTS MEAL pic.twitter.com/yPX43dL9A9

— Aurelia ⟭⟬⁷ 🧈 21 May (@AureliaOT7) April 23, 2021
Admittedly not all of the posts were as well polished as these examples, but there's no denying the power behind the BTS K-pop sensations and their adoring fanbase.