Game introduces veggie and vegan 'Christmas Tinner'
By Lucy Turner on Tuesday, December 3, 2019
Just in time for Christmas, Game have reintroduced the ultimate festive time-saver – Christmas dinner in a tin (Christmas Tinner).
Now with both vegetarian and vegan options, each can features three full courses of Christmas dinner – from sprouts to gravy to after-dinner yule log and even a vegan cheese course.
In 2013, the Christmas Tinner, from MHP, first turned stomachs with a can filled with Xmas dinner; egg, meat, carrots, trimming and pudding.
It was created to solidify the retailer as the place to buy games during the festive season with the next-gen of games consoles, the PS4 and Xbox One, hitting shelves.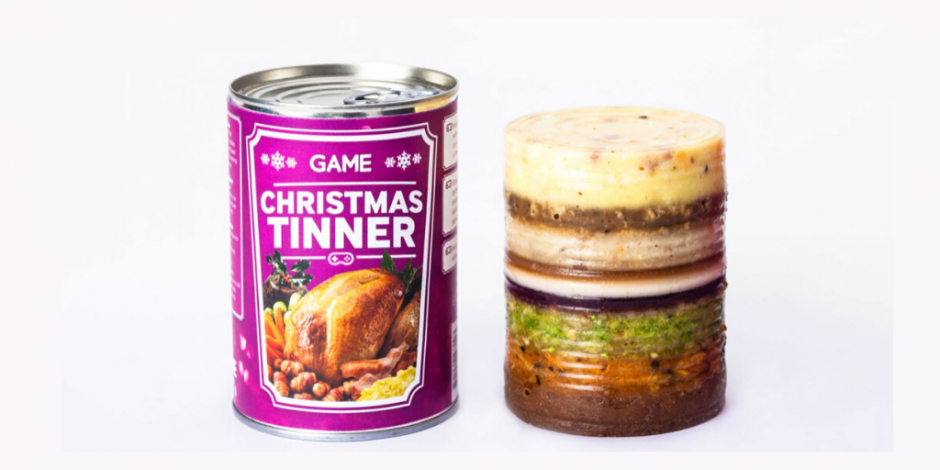 Now six years later, the gaming environment has changed, a large chunk of games transactions are now digital, meaning the retailer has had to adapt to drive footfall and brand recognition.
Working with creative digital PR agency Rise at Seven, Game has created new vegan and vegetarian 'Tinners'.
The work ties into the veggie trend (that saw Greggs cause a stir with the vegan sausage roll earlier this year).
Emma Butler, digital marketing specialist at Game, said: "The original Christmas Tinner has been so popular with gamers over the last several years that this year we've been inundated with requests for a vegan or vegetarian alternative. There are now 3.5 million vegans in the UK and we have had to respond to the shift in consumer behaviour habits and demand and make sure our products are appealing to all."