Pizza bouquets are now a thing, thanks to Villa Italian Kitchen
By Fiona Houston on Wednesday, June 20, 2018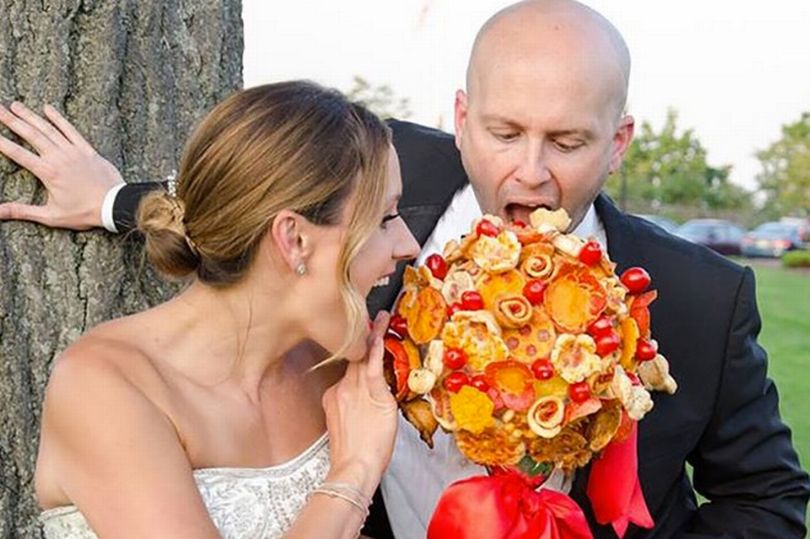 Thanks to this Italian restaurant, to-be-weds can make sure their wedding is hot, spicy and has all the toppings… That's right, brides can now walk up the aisle with a bouquet made of pizza!
Villa Italian Kitchen, the brand behind the crazy stunt, worked with top New York  food-stylist Jessie Bearden to create the beautiful, hand-crafted bouquets, which from a distance look exactly like real (if a little oily) flowers.
And the best part is the eatery is giving them away for free to a few lucky couples tying the knot in America.
Mimi Wunderlich, Director of Communications and Digital Marketing at Villa Italian Kitchen, said: "We are so excited to kick-off wedding season with the launch of the world's first pizza bouquet and boutonniere. These delicious floral accessories are perfect for pizza-loving couples looking to spice up their wedding with one of a kind designs."
We all know weddings are becoming less traditional, so maybe it's not long until we're all wafting pizza smells up the aisle on our big day.
If only they'd launched in time for the Royal Wedding, as I've heard Meghan is a big fan of pizza…