This KFC apology ad is finger-lickin good
By Staff on Friday, February 23, 2018
KFC is trying to put its worst week behind it today with this full page print advert which ran in Metro and The Sun.
The trademark bucket bears the jumbled logo FCK in the ads.
It's been a tough week for the brand but they have won praise for striking the right tone in communications.
"A chicken restaurant without any chicken. It's not ideal," the copy reads "It's been a hell of a week, but we're making progress."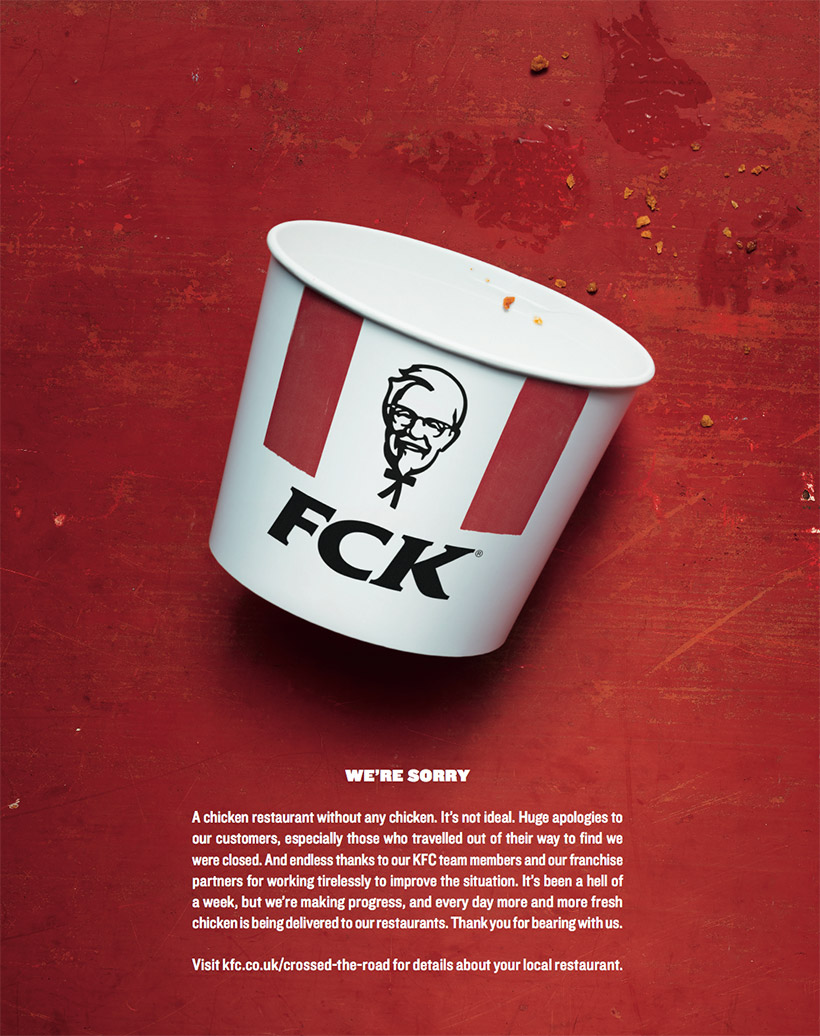 The ad points viewers to a website which opens with header "The chicken crossed the road, just not to our restaurants."
The chicken shortage delivered TV news coverage that was indistinguishable from satire.
KFC's chicken shortage has caused what is probably the most unnecessarily over-dramatic moment in TV history pic.twitter.com/RicWFIpkPj

— Michael Martin (@__MichaelMartin) February 20, 2018
Even journalists were miffed about not getting the KFC assignment.
WAIT A MINUTE The Telegraph has commissioned someone to write a piece about eating KFC and they didn't ask me??! pic.twitter.com/tfZntgLk8v

— Anita Singh (@anitathetweeter) February 22, 2018
It all goes to show that it's possible to have fun with crisis comms (as long as no-one died)
[Agency: Mother London]
Our Verdict: Finger Licking Good