Burgers that taste like human flesh served up in Walking Dead PR stunt
By Rich Leigh on Thursday, September 25, 2014
Forget all that horsemeat business, how do you fancy eating 'human' burgers?
In a stunt to promote the season five premiere, on Tuesday 30th September, a pop-up restaurant will give burgers that taste like human meat away for free from midday until stock runs out. Although it will be in East London, the exact location will be revealed nearer the time to those following the #terminustavern hashtag on Twitter.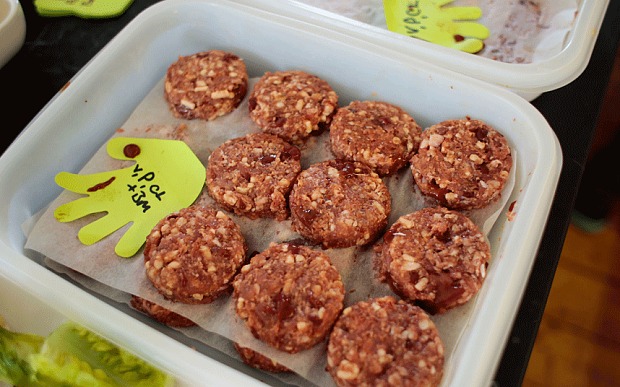 The obvious question is: how do the creators, chef James Thomlinson and freelance creative-type Miss Cakehead, know what human meat tastes like in order to make them?
According to the press release, 'painstaking research' into instances when people had to resort to cannibalism to survive was undertaken. 1920's author and journalist William Seabrook traveled to West Africa and described the experience of eating human meat in his book, Jungle Ways, saying:
"It was like good, fully developed veal, not young, but not yet beef. It was very definitely like that, and it was not like any other meat I had ever tasted. It was so nearly like good, fully developed veal that I think no person with a palate of ordinary, normal sensitiveness could distinguish it from veal".
Murderer Issei Sagawa said:
"It melted in my mouth like raw tuna in a sushi restaurant".
Further to his research, Chef Thomlinson used a mix of veal, beef and pork and create the burgers, which have gone down very well in terms of international press coverage.
For completeness – The Walking Dead Season 5 premieres on Monday October 13 at 9pm on FOX.