From the makers of bacon condoms and bacon lube comes… 'Power Bacon' deodorant. Seriously.
By Rich Leigh on Monday, November 11, 2013
When you've already created bacon condoms, bacon lube and bacon shaving cream as part of a series of porcine PR stunts to highlight your products, what else do you do?
Well, Seattle based J&D Foods – the founders of which, ingeniously, call themselves 'bacontrepreneurs' – has created 'Power Bacon' deodorant, designed "specifically for those with active lifestyles – or people who just sweat like pigs".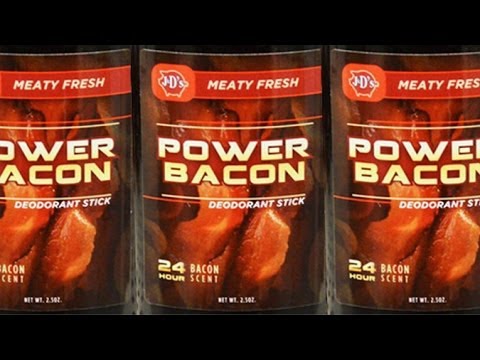 Unlike many of these stunts, it appears the product is indeed on sale, costing $9.99.
To highlight the olfactory breakthrough from the company whose first product was 'bacon salt' (yes, salt that makes everything taste like bacon), a blindfolded radio presenter at Seattle radio station Movin 92.5 was made to sniff the armpits of co-workers, including one who'd just used Power Bacon. Watch the product video and the prank in the video below.
He might not have been happy with what he was made to smell, but at least he guessed the scent.
Source: Huffington Post