Alan Partridge Movie Premiere Outrage!
By Staff on Wednesday, July 10, 2013
British filmmakers have been forced to respond to a spontaneous, grassroots social media campaign and abandon their plans to Premiere the new Alan Partridge film in London…reports the BBC, Guardian and others.
It will instead be first screened in the fictional broadcaster's hometown, in a "humble Norwich cinema."
Alan is coming home.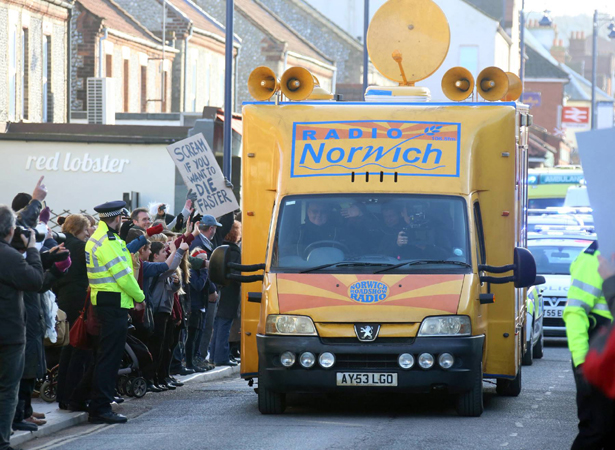 [image credit: WENN]
Or to put it another way, the marketing team behind 'Alan Partridge: Alpha Papa' have harnessed Twitter rage as a brilliant excuse to deliver a headline-grabbing "Norwich World Premiere".
I'd like to think that there's no way that Team Partridge would've ignored the opportunity to pull off a media event in Norfolk, Alan's 'Wales Of the East'..anyhow…
The story goes that it has taken 700,000 people reaching for their smartphones to RT the demand that the new £4.5 million movie must have its world premiere in Norwich to make this come about.
However it came about (and frankly who cares), a big hand please for superfans Rob Wilkes and Rafiq Turnbull whose catchy "Anglia Square Not Leicester Square" slogan spread across the social media biosphere – propelled from their campaign homepage on Facebook.

It spawned posters, newspaper column inches, a demonstration outside city hall and even a range of tasteful, Alan-themed campaign merchandise (profits from which to be donated to the local owl sanctuary, just as the broadcaster would have wanted).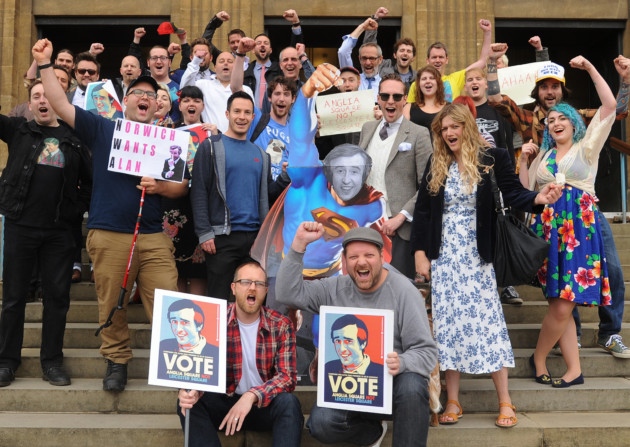 Local uproar is a media gift – so by the time Armando Iannucci, the film's co-producer, joked that "the Norfolk Spring gathers momentum"  the deal was pretty much done.
Not only does a lunchtime Norwich screening deliver a whole new tier to the campaign, the stunt also offered the opportunity for a classic bit of Partridgism… in the form of Alan's awesome media statement regarding the "scandal".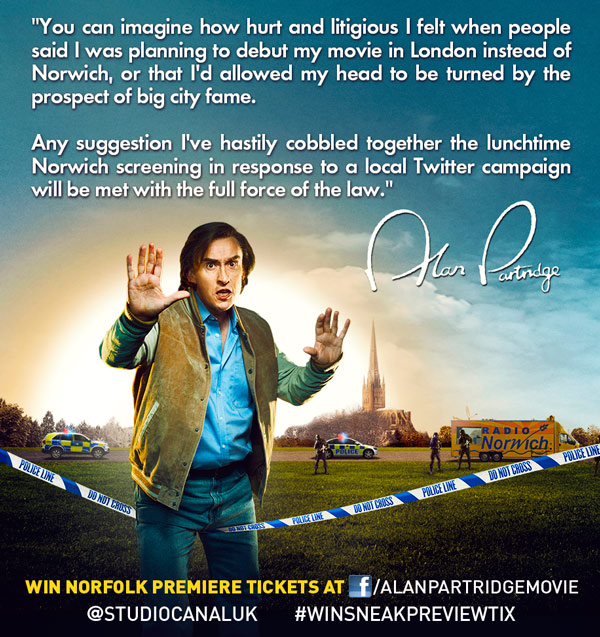 And as a bonus – this lunchtime event also gets round the age-old problem for film PR's of creating a page-holder early on in the day of a premiere. A story that can that can be changed-up when the stars hit the red carpet for later print editions.
So well done Studio Canal.
Back of the net!
P.S. There has been some spectacular local graffiti (via @IAmPremiereAlan)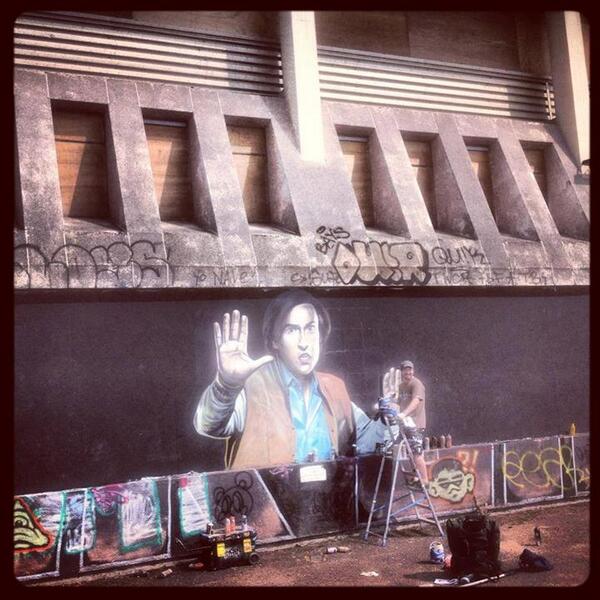 [@taylorherringpr]