Nandos first to honour Alex Ferguson in reactive stunt
By Jade Mansell on Wednesday, May 8, 2013
Often the most effective PR stunts are those that are reactive, and Nandos has proven quickest off the mark by honouring Sir Alex Ferguson's retirement mere hours after it was announced.
The chicken restaurant giant has extended opening times in its Manchester outlets by five minutes, in what they've dubbed #NandosFergieTime.
The fact that they've only opened for an unremarkable five minutes extra makes this even more newsworthy – it reinforces the brand's quirky, happy-go-lucky personality and adds an element of talkability to the story: its nonsensicalness makes it interesting.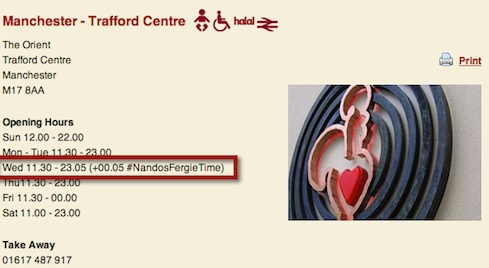 Nandos has a track record of effectively jumping onto on-trend news stories. A couple of weeks ago they placed an online advert poking fun at Liverpool striker Luis Suarez for biting an opponent's arm, reassuring the footballer he will "never bite alone".
The story has already been picked up by Metro; read the Nandos blog to find out more about the #NandosFergieTime stunt.