'The Strawberry' pub renamed 'La Fraise' to welcome incoming Newcastle United French signings
By Rich Leigh on Tuesday, January 29, 2013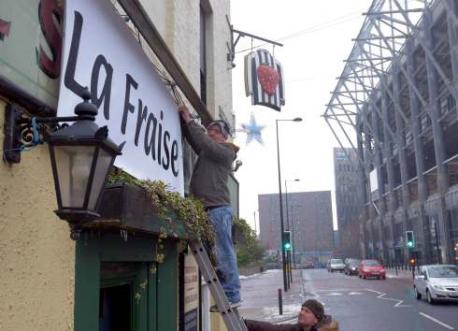 A pub in Newcastle has renamed itself to welcome (and piggyback on) the incoming contingent of French players at Premiership team Newcastle United,
The Strawberry, a Newcastle United-themed pub situated right next to St James' Park has been re-christened 'La Fraise' to honour the four (update) five new French players signed in the January transfer window, increasing the number of Frenchmen in Newcastle's squad to ten.
The re-named Strawberry was unveiled last Friday when owner Michael Hill put up a banner to replace the pub's traditional English name.
Caroline Armstrong, co-owner of the Strawberry/La Fraise, acknowledged the simple yet effective PR stunt, saying "It's all tongue in cheek."
Thanks to Ian Benet for tweeting me with this Northern Echo article.