Tesco Wines invites you to a Halloween Twitter party
By Lucy Werner on Wednesday, October 31, 2012
Today marks the culmination of a Halloween-themed Twitter campaign for Tesco Wines, created by global social media agency We Are Social.
With engagement starting to build in the last week, Tesco Wines has been tweeting engaging Halloween-themed questions and teasers to Tesco Wines' followers. Consumers who follow the group have been shared an invitation to a Twitter Party using the hashtag #HalloWine.
All Twitter users who re-tweet the invitation to their followers will win a chance of winning a number of prizes from Barefoot Wines, Tesco Wines' partner for the campaign.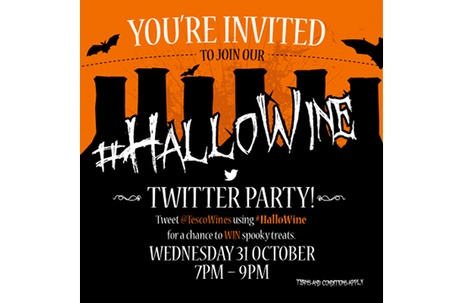 Taking place at 7pm tonight (Halloween) the Tesco Wine's followers will be encouraged to respond to spooky questions posted throughout the Twitter party and to share their own thoughts and feelings about Halloween and horror trivia.
This is a simple competition mechanic hooking off the seasonal calendar to build awareness and engagement with a brand receiving over 500 retweets for the party invitation at the time of writing. It will be interesting to see post-Halloween how Tesco Wines will keep this conversation going with it's new found followers….