Pub Chain 'Steaks' Claim for Most Bizarre Tribute to Sporting Heroes Yet
By Stephen Graham on Wednesday, October 10, 2012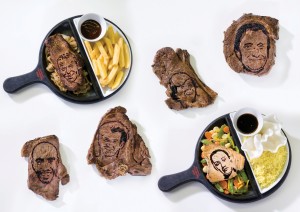 After a fantastic summer of sporting action, WPR have helped pub chain Flaming Grill to create a unique gallery of stars who are 'steak-ing' a claim to be named Sports Personality of the Year – by branding their faces on prime cuts of steak.
Flaming Grill wanted to say 'well done' to the likes of Andy Murray, Bradley Wiggins, Mo Farah and Jessica Ennis on their inspirational achievements by branding their faces on slabs of meat. Could there be a better acknowledgement of their sporting achievements? I think not.
We worked with food artist Prudence Staite to create the cook-a-likes, which includes Olympic stars Jess-steak-a Ennis, Sir-Loin Chris Hoy and Flaming Mo Farah.
US Open Tennis champion Andy Moo-ray, Tour de France winner Bradley Grillins and USPGA Golf champion Rory McIl'rump' complete the line-up, which celebrates the launch of Flaming Grill's Steak Festival.
A meaty bit of PR by the
WPR
team, that has so far secured
MailOnline
coverage.