Leeds Rhinos put their shirt on Twitter
By Chris Date on Friday, July 6, 2012
Rugby League's Leeds Rhinos will make television history in tonight's Super League game, when they become the first rugby league team to feature Twitter handles on their shirts instead of the players' names.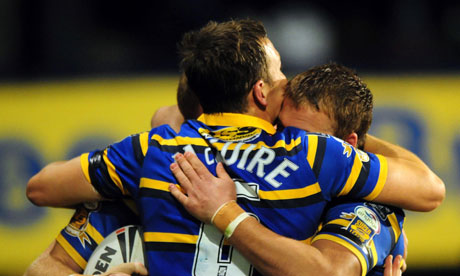 It looks like a pretty shrewd move on the publicity front, as The Rhinos have more than 18,000 Twitter followers and two of their players, the England internationals Rob Burrow and Jamie Peacock, have more than that individually. However, one player will not be able to take part: former Great Britain prop Ryan Bailey has been banned from using his Twitter name @hayemaker16 as it could be considered to be encouraging violence!
The game against Hull starts at 8pm tonight and will be shown on Sky Sports. Leeds will also be wearing a green and silver shirt, instead of their usual blue and yellow, as part of their third annual Armed Forces Day game, in order to help raise awareness and funds for the Royal Navy & Royal Marine Charity.
They will not be the first professional sports team to display their Twitter handles, as the Spanish football team Valencia did so in one game last year, and the FA Women's Super League allow one player in each team to do so.
This looks set to be part of an ongoing trend – so which is going to be the first English Premier League football team to do it?
Source: The Guardian