Goofy and Google celebrate Disneyland's 20th Birthday
By Amanda Fox on Wednesday, April 4, 2012
Disneyland Paris has celebrated their 20th birthday in spectacular style, together with their well-know parades, art-shows and celebrity attendance. However, it's their online tactic that has caught attention. Disneyland has teamed up with Google to utilise their Google Street View to allow Goofy to come to your home, knock on your door, rip off your roof and carry you away to Paris! The campaign got it got the attention of the public by displaying a banner on YouTube.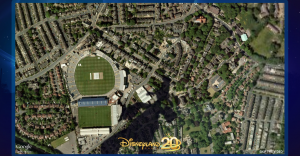 It works by firstly asking you to enter your postcode, which then works up your address and animation for your street. A giant shadow appears over Google maps highlighting where you live. The ending asks you to share with friends, which I'm sure many of you will! But are you tempted with a visit?
The site has it's own dedicated address: www.giantsteps20.com – and I highly recommend you try it out yourself!